Abigail Arcane (New Earth)
Talk

0
79,943pages on
this wiki

Status
Characteristics
Origin
Abigail Holland was born into the Aristocratic Arcane family of Transylvania. She was raised by her father Gregori in Castle Arcane, and when she was eighteen-years-old became a medic in the nearby Balkan village. In 1973, Interpol agent Matthew Cable came to Transylvania investigating the alleged murders of his friends Alec and Linda Holland. He believed that a strange creature known as the Swamp Thing was responsible for their deaths. He met Abby and became instantly smitten with her. At this time, Abby had a brief encounter with the bizarre Patchwork Man, and came to realize that he was actually the mute and disfigured form of her father, Gregori. It was also at this time that Abby first encountered another monstrosity – the Swamp Thing. The Swamp Thing and the Patchwork Man found themselves embroiled in a conflict with the Un-Men, a battle that resulted in the destruction of Castle Arcane.
Following the destruction of the ancestral estate, Abby agreed to leave Transylvania with Matt. She shared in several strange adventures with Matt and tried to convince him to abandon his obsessive desire to destroy the Swamp Thing. Before long, Abby reciprocated Matthew's love and the two were married. Matt arranged for Abby to become a U.S. citizen. They both soon discovered that Alec Holland was the Swamp Thing and Cable abandoned his hunt for Alec's killer (though it would turn out that the Swamp Thing was not Alec Holland after all). After many harrowing incidents with one another, the marriage between Abigail and Matt began to fall apart. She began slowly developing feelings for the Swamp Thing. Cable meanwhile became the victim of Abby's uncle Anton Arcane. After attempting to possess his body, Matthew Cable lapsed into a coma and eventually died. Distraught Abigail found comfort in the arms of the Swamp Thing. The two fell in love and married each other in their own unique private ceremony.
DCnU


The DC Universe heavily changed its continuity into the DCnU following the events of Flashpoint in 2011. This was part of an effort to make storylines more accessible to newer readers, beginning with the New 52. This new timeline combines elements from the DCU, Vertigo Universe and Wildstorm Universe while drastically changing the origins and histories of characters.

In the post-Flashpoint universe, Abigail's history with Swamp Thing is significantly altered. In this new world, Abigail is alive during modern times. Also, this version of Abigail Arcane claims to have become a different woman from the one who married the Swamp Thing.[1]
Abigail appeared just in time save Alec Holland from agents of The Rot as the two escaped on Abigail's motorcycle.[2] Once Abigail and Alec were safely away, she forced Alec to prove his identity as the avatar of The Green. She revealed that, like him, she is connected to an elemental force: The Black, or The Rot.
Her half-brother William was also connected to the Rot, and had just awakened to his role. He was able to control dead and rotting matter, and used this ability to escape his care facility and head off into the dessert to start building an army.[1]
Against her warnings, Alec insisted on joining Abby on her journey to stop her half-brother from becoming the avatar of the Rot. Abby warned that Alec's connection to the Green would weaken if he continues travelling into the Deadlands, where William's army was assembled.[3]
While making last preparations, Alec bought Abby some canned peaches, having used his memories of the Swamp Thing to recall that they were a favourite food of hers. Though Abigail was somewhat turned off by his using the memories of someone else to his advantage - someone she once loved - she accepts the gift.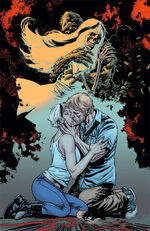 Outside the store, they were set upon by William and his creatures. Thought the fight went poorly, Alec managed to reach into the Green and trap William in a tree. Abigail was wounded, and as Alec treated her wound, they admitted that they both had dreams, sometimes nightmares, about their respective elemental forces. Alec had had dreams of a girl made of bones, and Abigail had dreamt of a boy made of leaves. There had always been warnings from the elements to avoid those people in both dreams, but realizing that they had been dreaming about each other, their own voices seemed stronger than those of the Green or the Rot. Pushing aside the natural opposition their internal forces have for each other, Alec and Abigail shared their first kiss.[4]
Abby was suddenly enveloped by tendrils of The Rot. As Alec desperately tried to tear her free, William escaped his captor and explained that Rot never wanted him, it wanted Abby. She was meant to become Avatar of the Rot. As Abby was dragged into a cocoon of rotting flesh, she begged Alec to run before she could kill him.[5]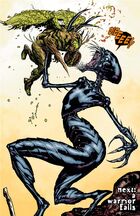 Afterwards, the Rot's servants took Abby's cocoon deep into the Deadlands, alongside Sethe's throne. According to the Parliament of Trees, when she emerged from the cocoon, she would become a force of death. For Abby's sake, Alec agreed to become the Swamp Thing, and set things right.[6]
Swamp Thing fought through the Rot's domain, trying to save Abby. Unfortunately, Abby's transformation was completed, and she becomes an avatar of the Rot - The Black Queen. Although Swamp Thing tried to reason with her, Abby was consumed by the desire to destroy him.[7]
Fortunately, Alec had secreted orchid seeds into the canned peaches that he bought for Abby earlier, and he encouraged them to grow within her until the Rot could no longer hold purchase in her body. Then, she took her revenge.[8]

Powers and AbilitiesEdit
Powers
Psychokinesis: Abigail Holland is a natural psychic whose abilities began to develop when she was a child.

Empathy: Abby posseses a natural emotional affinity towards other living things. At first terrified by such an ability, Abby later accepted the power to feel the emotions of others and it was this ability that drove her towards pursuing a career in medicine. Abby's empathic control is what also enabled her to recognize her father as the Patchwork Man, and also paved the way for her romantic relationship and later marriage to Alec Holland, the Swamp Thing.
Telepathy: In connection with her empathic control, Abby can also perceive mental impressions from the minds of others and on a low level, transmit her thoughts to other people as well. She once used this ability to telepathically sense Alec Holland's soul which had been trapped in a mystic globe by the Nebiros.
Abilities
Medical Science: Abigail Holland is experienced in the field of basic medicine and first aid.

Although this character was originally introduced during DC's Earth-One era of publication, their existence following the events of the 1985-86 limited series Crisis on Infinite Earths remains intact. However, some elements of the character's Pre-Crisis history may have been altered or removed for Post-Crisis New Earth continuity, and should be considered apocryphal.
Like John Constantine, Abby is one of the few DC Universe supporting characters that ages in real time, due to publication in the Vertigo imprint. She turned 50 years old in late 2005, having only been a teenager in her first appearance in 1973.
Abby's marriage to the Swamp Thing was conducted through Neopagan ritual and is not legally recognized by any state or organized religion.

Abby's white hair with black streaks appears to be a dominant heridtary trait among the Arcane women. Her grandmother Anaïs Arcane had similar hair as does Abby's daughter Tefé.

Recommended ReadingEdit
Related ArticlesEdit
Related
Discover and Discuss
Footnotes
---

Vertigo Character
This character exists under the Vertigo Imprint which is intended for Mature Readers. Their continuity takes place within the context of Vertigo titles although they may cross over into regular DC continuity.
This template will categorize articles that include it into the category "Vertigo Characters."
Swamp Thing Character

This character specifically relates to the Swamp Thing and is predominantly seen in the Swamp Thing family of titles. This character may be part of the Swamp Thing's supporting cast, a minor acquaintance, or one of his adversaries. This template will automatically categorize articles that include it into the Swamp Thing Characters category.