Ad blocker interference detected!
Wikia is a free-to-use site that makes money from advertising. We have a modified experience for viewers using ad blockers

Wikia is not accessible if you've made further modifications. Remove the custom ad blocker rule(s) and the page will load as expected.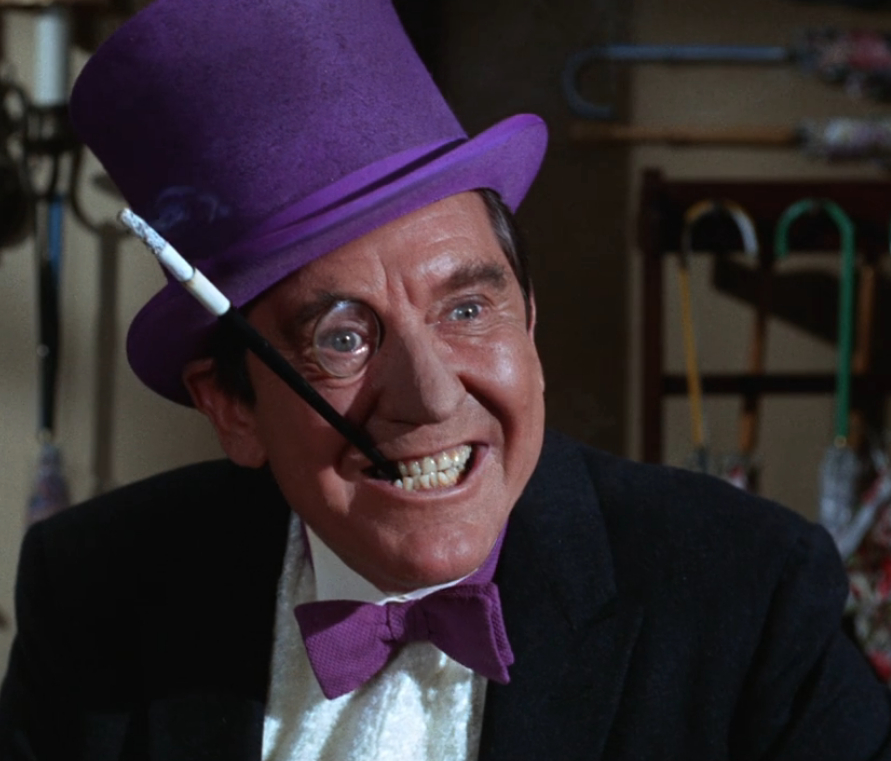 Burgess Meredith
(
b.
November 16, 1907 -
d.
September 9, 1997) portrayed
Penguin
on the series
Batman
, and in the related
film
.
(External Links: The actor's entries on IMDb and Wikipedia)


Selected Filmography
Project
Date
Role
Batman
1966-1968
     A full episode list is provided below with characters listed per episode
Batman (Tie-in movie)
July 30, 1966
Penguin
Batman
| Episode | Date | Role |
| --- | --- | --- |
| "Fine Feathered Finks" | January 19, 1966 | Penguin |
| "The Penguin's a Jinx" | January 20, 1966 | Penguin |
| "The Penguin Goes Straight" | March 23, 1966 | Penguin |
| "Not Yet, He Ain't" | March 24, 1966 | Penguin |
| "Fine Finny Fiends" | May 4, 1966 | Penguin |
| "Batman Makes the Scenes" | May 5, 1966 | Penguin |
| "Hizzonner the Penguin" | November 2, 1966 | Penguin |
| "Dizzoner the Penguin" | November 3, 1966 | Penguin |
| "The Penguin's Nest" | December 7, 1966 | Penguin |
| "The Bird's Last Jest" | December 8, 1966 | Penguin |
| "The Zodiac Crimes" | January 11, 1967 | Penguin |
| "The Penguin Declines" | January 18, 1967 | Penguin |
| "Penguin Is a Girl's Best Friend" | January 26, 1967 | Penguin |
| "Penguin Sets a Trend" | February 1, 1967 | Penguin |
| "Penguin's Disastrous End" | February 2, 1967 | Penguin |
| "Enter Batgirl, Exit Penguin" | September 14, 1967 | Penguin |
| "The Wail of the Siren" | September 28, 1967 | Penguin |
| "The Sport of Penguins" | October 5, 1967 | Penguin |
| "A Horse of Another Color" | October 12, 1967 | Penguin |
| "Nora Clavicle and the Ladies' Crime Club" | January 18, 1968 | Penguin |
| "Penguin's Clean Sweep" | January 25, 1968 | Penguin |