Ad blocker interference detected!
Wikia is a free-to-use site that makes money from advertising. We have a modified experience for viewers using ad blockers

Wikia is not accessible if you've made further modifications. Remove the custom ad blocker rule(s) and the page will load as expected.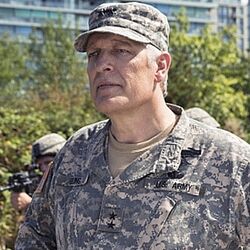 Clancy Brown
(
b.
January 5, 1959) is best known for voicing
Lex Luthor
for the
DCAnimated Universe
series series
Superman
and
Justice League
. He also voiced characters in later DC projects including:
2014 marked his first on screen work on a live action project related to DC characters, portraying General Wade Eiling on the series The Flash.

(External Links: The actor's entries on IMDb and Wikipedia)


Selected Filmography
Project
Date
Role
Superman
1996-2000
     A full episode list is provided below with characters listed per episode
Superman: The Last Son of Krypton
September 6, 1996
Lex Luthor
The Batman/Superman Movie
October 4, 1997
Lex Luthor
Superman (Tie-in video game)
1998
Lex Luthor
Batman Beyond
1999-2001
     "Betrayal"
December 9, 2000
Big Time
The Zeta Project
2001-2002
     "Hicksburg"
March 31, 2001
Sheriff Morgan
     "Ro's Reunion"
May 12, 2001
Sheriff Morgan
Superman: Shadow of Apokolips
September 24, 2003
Lex Luthor
Teen Titans
2003-2006
     "Deep Six"
September 13, 2003
Trident
Justice League
2001-2004
     "Injustice for All, Part I"
September 6, 2002
Lex Luthor
     "Injustice for All, Part II"
September 13, 2002
Lex Luthor
     "Tabula Rasa, Part I"
October 4, 2003
Lex Luthor
     "Tabula Rasa, Part II"
October 4, 2003
Lex Luthor
     "Only a Dream, Part I"
October 11, 2003
Lex Luthor
     "A Better World, Part I"
November 1, 2003
Lex Luthor
     "A Better World, Part II"
November 1, 2003
Lex Luthor
     "Hereafter, Part I"
November 29, 2003
Lex Luthor
Justice League Unlimited
2004-2006
     A full episode list is provided below with characters listed per episode
The Batman
2004-2008
     "The Big Chill"
October 30, 2004
Victor Fries
     "The Icy Depths"
May 6, 2006
Victor Fries
     "Fire and Ice"
May 28, 2005
Victor Fries
     "Artifacts"
February 3, 2007
Victor Fries
     "The Batman/Superman Story, Part I"
September 22, 2007
Lex Luthor
Bane
     "The Batman/Superman Story, Part II"
September 29, 2007
Lex Luthor
Superman/Batman: Public Enemies
September 29, 2009
Lex Luthor
Batman: The Brave and the Bold
2008-2011
     "The Golden Age of Justice!"
January 15, 2010
Per Degaton
     "The Super-Batman of Planet X!"
March 26, 2010
Rohtul
Mugger
Green Lantern
June 17, 2011
Parallax
Young Justice
2010-2013
     "Performance"
April 7, 2012
King Faraday
Firebreather
Green Lantern: The Animated Series
2011-2013
     "Lost Planet"
April 7, 2012
General Zartok
     "Invasion"
May 19, 2012
General Zartok
LEGO Batman 2: DC Super Heroes
June 19 2012
Lex Luthor
Lego Batman: The Movie
May 21, 2013
Lex Luthor
Doom Patrol
2013
     "Challenge of the Timeless Commander"
August 24, 2013
Negative Man
General Immortus
     "Trail of the Terrible Titan"
November 16, 2013
Negative Man
     "The Spy Within the Doom Patrol"
December 28, 2013
Negative Man
Robot Chicken DC Comics Special II: Villains in Paradise
April 6, 2014
Gorilla Grodd
The Flash
2014-
     "Plastique"
November 11, 2014
General Wade Eiling
     "The Nuclear Man"
February 10, 2015
General Wade Eiling
     "Fallout"
February 17, 2015
General Wade Eiling
     "Grodd Lives"
May 5, 2015
General Wade Eiling
LEGO Batman 3: Beyond Gotham
November 11, 2014
Lex Luthor
Superman
| Episode | Date | Role |
| --- | --- | --- |
| "The Last Son of Krypton, Part II" | September 6, 1996 | Lex Luthor |
| "The Last Son of Krypton, Part III" | September 6, 1996 | Lex Luthor |
| "A Little Piece of Home" | September 14, 1996 | Lex Luthor |
| "The Way of All Flesh" | October 19, 1996 | Lex Luthor |
| "Stolen Memories" | November 2, 1996 | Lex Luthor |
| "The Main Man, Part I" | November 9, 1996 | Lex Luthor |
| "My Girl" | November 23, 1996 | Lex Luthor |
| "Blasts from the Past, Part I" | September 8, 1997 | Lex Luthor |
| "Identity Crisis" | September 15, 1997 | Lex Luthor |
| "Target" | September 19, 1997 | Lex Luthor |
| "Solar Power" | September 26, 1997 | Lex Luthor |
| "Brave New Metropolis" | September 27, 1997 | Lex Luthor |
| "Ghost in the Machine" | September 29, 1997 | Lex Luthor |
| "World's Finest, Part I" | October 4, 1997 | Lex Luthor |
| "World's Finest, Part II" | October 4, 1997 | Lex Luthor |
| "World's Finest, Part III" | October 4, 1997 | Lex Luthor |
| "Prototype" | October 11, 1997 | Lex Luthor |
| "A Fish Story" | May 8, 1999 | Lex Luthor |
| "Legacy, Part I" | February 5, 2000 | Lex Luthor |
| "Legacy, Part II" | February 12, 2000 | Lex Luthor |
Justice League Unlimited
Episode
Date
Role
"The Return"
September 18, 2004
Lex Luthor
Guardian of Oa
"Clash"
June 11, 2005
Lex Luthor
"Question Authority"
June 25, 2005
Lex Luthor
"Flashpoint"
July 2, 2005
Lex Luthor
"Panic In The Sky"
July 9, 2005
Lex Luthor
"Divided We Fall"
July 16, 2005
Lex Luthor
"I am Legion"
September 17, 2005
Lex Luthor
"To Another Shore"
September 24, 2005
Lex Luthor
Vice President
"Dead Reckoning"
February 18, 2006
Lex Luthor
"The Great Brain Robbery"
March 4, 2006
Lex Luthor
"Grudge Match"
March 11, 2006
Lex Luthor
"Alive!"
May 6, 2006
Lex Luthor
"Destroyer"
May 13, 2006
Lex Luthor