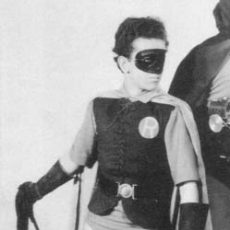 Douglas Croft
(
b.
August 12, 1926 -
d.
October 24, 1963) portrayed
Robin/Dick Grayson
in the 1943 serial
Batman
. He is the first actor to ever play the part of Batman's teen sidekick. He was succeeded in the role by
Johnny Duncan
in the 1949 serial
Batman and Robin
.
(External Links: The actor's entries on IMDb and Wikipedia)


Selected Filmography
Ad blocker interference detected!
Wikia is a free-to-use site that makes money from advertising. We have a modified experience for viewers using ad blockers

Wikia is not accessible if you've made further modifications. Remove the custom ad blocker rule(s) and the page will load as expected.