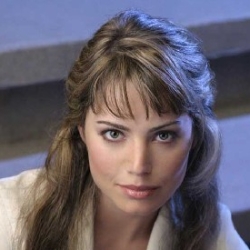 Erica Durance
(
b.
June 21, 1978) portrayed
Lois Lane
on the television series
Smallville
.
As a cast member of Smallville, Durance was introduced to the viewers during the 4th season of the series, where she was only credited as a guest actor. She joined the regular cast of the show the following season. A poll taken by the series Attack of the Show showed that Durance was considered as the Best Lois Lane. Durance also played the role of Kryptonian villain Faora who had taken physical possession of Lois Lane in the 8th season episode "Bloodline".
In 2017 she replaced Laura Benanti as Alura on the series Supergirl.

(External Links: The actor's entries on IMDb and Wikipedia)


Selected Filmography
Smallville
Episode
Date
Role
     "Crusade"
September 22, 2004
Lois Lane
     "Gone"
September 29, 2004
Lois Lane
     "Façade"
October 6, 2004
Lois Lane
     "Devoted"
October 13, 2004
Lois Lane
     "Spell"
November 10, 2004
Lois Lane
Brianna Withridge
     "Pariah"
February 2, 2005
Lois Lane
     "Recruit"
February 9, 2005
Lois Lane
     "Krypto"
February 16, 2005
Lois Lane
     "Lucy"
March 2, 2005
Lois Lane
     "Spirit"
April 20, 2005
Lois Lane
Dawn Stiles
     "Blank"
April 27, 2005
Lois Lane
     "Forever"
May 11, 2005
Lois Lane
     "Commencement"
May 18, 2005
Lois Lane
     "Arrival"
September 29, 2005
Lois Lane
     "Aqua"
October 20, 2005
Lois Lane
     "Exposed"
November 3, 2005
Lois Lane
     "Solitude"
November 17, 2005
Lois Lane
     "Fanatic"
January 12, 2006
Lois Lane
     "Lockdown"
January 19, 2006
Lois Lane
     "Reckoning"
January 26, 2006
Lois Lane
     "Tomb"
February 9, 2006
Lois Lane
     "Hypnotic"
March 30, 2006
Lois Lane
     "Fragile"
April 13, 2006
Lois Lane
     "Fade"
April 27, 2006
Lois Lane
     "Oracle"
May 4, 2006
Lois Lane
     "Vessel"
May 11, 2006
Lois Lane
     "Zod"
September 28, 2006
Lois Lane
     "Sneeze"
October 5, 2006
Lois Lane
     "Wither"
October 12, 2006
Lois Lane
     "Arrow"
October 19, 2006
Lois Lane
     "Reunion"
October 26, 2006
Lois Lane
     "Rage"
November 9, 2006
Lois Lane
     "Hydro"
January 11, 2007
Lois Lane
     "Justice"
January 18, 2007
Lois Lane
     "Crimson"
February 1, 2007
Lois Lane
     "Combat"
March 22, 2007
Lois Lane
     "Noir"
May 3, 2007
Lois Lane
     "Prototype"
May 10, 2007
Lois Lane
     "Phantom"
May 17, 2007
Lois Lane
     "Bizarro"
September 27, 2007
Lois Lane
     "Kara"
October 4, 2007
Lois Lane
     "Action"
October 25, 2007
Lois Lane
     "Wrath"
November 8, 2007
Lois Lane
     "Blue"
November 15, 2007
Lois Lane
     "Gemini"
December 13, 2007
Lois Lane
     "Siren"
February 7, 2008
Lois Lane
     "Fracture"
February 14, 2008
Lois Lane
     "Veritas"
March 27, 2008
Lois Lane
     "Descent"
April 17, 2008
Lois Lane
     "Apocalypse"
May 1, 2008
Lois Lane
Lois Lane (Alternate reality)
     "Arctic"
May 15, 2008
Lois Lane
     "Odyssey"
September 18, 2008
Lois Lane
     "Plastique"
September 25, 2008
Lois Lane
     "Toxic"
October 2, 2008
Lois Lane
     "Instinct"
October 9, 2008
Lois Lane
     "Committed"
October 16, 2008
Lois Lane
     "Identity"
October 30, 2008
Lois Lane
     "Bloodline"
November 6, 2008
Lois Lane
Faora
     "Bride"
November 20, 2008
Lois Lane
     "Infamous"
March 12, 2009
Lois Lane
     "Hex"
March 26, 2009
Lois Lane
Chloe Sullivan
     "Stiletto"
April 23, 2009
Lois Lane/Stiletto
     "Doomsday"
May 14, 2009
Lois Lane
     "Savior"
September 25, 2009
Lois Lane
     "Metallo"
October 2, 2009
Lois Lane
     "Rabid"
October 9, 2009
Lois Lane
     "Echo"
October 16, 2009
Lois Lane
     "Roulette"
October 23, 2009
Lois Lane
     "Crossfire"
October 30, 2009
Lois Lane
     "Idol"
November 13, 2009
Lois Lane
     "Pandora"
November 20, 2009
Lois Lane
     "Disciple"
January 29, 2010
Lois Lane
     "Absolute Justice, Part I"
February 5, 2010
Lois Lane
     "Absolute Justice, Part II"
February 5, 2010
Lois Lane
     "Warrior"
February 12, 2010
Lois Lane
     "Persuasion"
February 19, 2010
Lois Lane
     "Conspiracy"
February 26, 2010
Lois Lane
     "Escape"
April 2, 2010
Lois Lane
Silver Banshee
     "Upgrade"
April 16, 2010
Lois Lane
     "Charade"
April 23, 2010
Lois Lane
     "Hostage"
May 7, 2010
Lois Lane
     "Salvation"
May 14, 2010
Lois Lane
     "Lazarus"
September 24, 2010
Lois Lane
     "Shield"
October 1, 2010
Lois Lane
     "Supergirl"
October 8, 2010
Lois Lane
     "Homecoming"
October 16, 2010
Lois Lane
     "Isis"
October 22, 2010
Lois Lane
Isis
     "Harvest"
October 29, 2010
Lois Lane
     "Ambush"
November 5, 2010
Lois Lane
     "Abandoned"
November 12, 2010
Lois Lane
     "Patriot"
November 19, 2010
Lois Lane
     "Luthor"
December 3, 2010
Lois Lane
Lois Lane (Alternate reality)
     "Icarus"
December 10, 2010
Lois Lane
     "Collateral"
February 4, 2011
Lois Lane
     "Beacon"
February 11, 2011
Lois Lane
     "Masquerade"
February 18, 2011
Lois Lane
     "Fortune"
February 25, 2011
Lois Lane
     "Scion"
March 4, 2011
Lois Lane
     "Kent"
March 11, 2011
Lois Lane
Lois Lane (Alternate reality)
     "Booster"
April 15, 2011
Lois Lane
     "Dominion"
April 22, 2011
Lois Lane
     "Prophecy"
April 29, 2011
Lois Lane
     "Finale, Part I"
May 6, 2011
Lois Lane
     "Finale, Part II"
May 13, 2011
Lois Lane