Ad blocker interference detected!
Wikia is a free-to-use site that makes money from advertising. We have a modified experience for viewers using ad blockers

Wikia is not accessible if you've made further modifications. Remove the custom ad blocker rule(s) and the page will load as expected.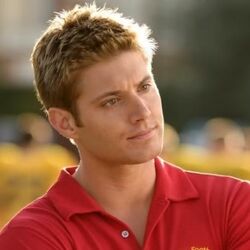 Jensen Ackles
(
b.
March 1, 1978) portrayed
Jason Teague
on the television series
Smallville
and voiced
Jason Todd/Red Hood
for the animated film
Batman: Under the Red Hood
.
He is known best for portraying Dean Winchester on Supernatural.

(External Links: The actor's entries on IMDb, Wikipedia, and Supernatural Wiki)


Selected Filmography
Smallville
| Episode | Date | Role |
| --- | --- | --- |
| "Crusade" | September 22, 2004 | Jason Teague |
| "Gone" | September 29, 2004 | Jason Teague |
| "Façade" | October 6, 2004 | Jason Teague |
| "Devoted" | October 13, 2004 | Jason Teague |
| "Run" | October 20, 2004 | Jason Teague |
| "Transference" | October 27, 2004 | Jason Teague |
| "Jinx" | November 3, 2004 | Jason Teague |
| "Spell" | November 10, 2004 | Jason Teague |
| "Bound" | November 17, 2004 | Jason Teague |
| "Scare" | December 1, 2004 | Jason Teague |
| "Unsafe" | January 26, 2005 | Jason Teague |
| "Pariah" | February 2, 2005 | Jason Teague |
| "Recruit" | February 9, 2005 | Jason Teague |
| "Krypto" | February 16, 2005 | Jason Teague |
| "Sacred" | February 23, 2005 | Jason Teague |
| "Lucy" | March 2, 2005 | Jason Teague |
| "Spirit" | April 20, 2005 | Jason Teague |
| "Blank" | April 27, 2005 | Jason Teague |
| "Forever" | May 11, 2005 | Jason Teague |
| "Commencement" | May 18, 2005 | Jason Teague |