Ad blocker interference detected!
Wikia is a free-to-use site that makes money from advertising. We have a modified experience for viewers using ad blockers

Wikia is not accessible if you've made further modifications. Remove the custom ad blocker rule(s) and the page will load as expected.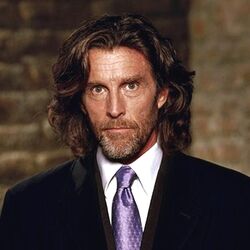 John Glover
(
b.
August 7, 1944) has worked on a number of adaptations of DC characters. In 1992 he voiced the
Riddler
for the animated series
Batman
, returning to the character for later appearances in that series,
The New Batman Adventures
, and
Superman
. In 1997, he portrayed
Jason Woodrue
in the film
Batman and Robin
. In 2001 he took the role of
Lionel Luthor
on the series
Smallville
. During his time on
Smallville
, Glover also portrayed
Clark Kent
and
Jor-El
possessing Lionel's body in the episodes "
Transference
" and "
Hidden
" respectively, along with
Brainiac
posing as Lionel in the episode "
Persona
".
(External Links: The actor's entries on IMDb and Wikipedia)


Selected Filmography
Smallville
Episode
Date
Role
"Pilot"
October 16, 2001
Lionel Luthor
"Hothead"
October 30, 2001
Lionel Luthor
"Jitters"
December 11, 2001
Lionel Luthor
"Shimmer"
January 29, 2002
Lionel Luthor
"Leech"
February 12, 2002
Lionel Luthor
"Stray"
April 16, 2002
Lionel Luthor
"Reaper"
April 23, 2002
Lionel Luthor
"Crush"
May 07, 2002
Lionel Luthor
"Tempest"
May 21, 2002
Lionel Luthor
"Vortex"
September 24, 2002
Lionel Luthor
"Duplicity"
October 8, 2002
Lionel Luthor
"Red"
October 15, 2002
Lionel Luthor
"Nocturne"
October 22, 2002
Lionel Luthor
"Lineage"
November 5, 2002
Lionel Luthor
"Skinwalker"
November 26, 2002
Lionel Luthor
"Insurgence"
January 21, 2003
Lionel Luthor
"Suspect"
January 28, 2003
Lionel Luthor
"Prodigal"
February 11, 2003
Lionel Luthor
"Witness"
April 29, 2003
Lionel Luthor
"Accelerate"
May 6, 2003
Lionel Luthor
"Calling"
May 13, 2003
Lionel Luthor
"Exodus"
May 20, 2003
Lionel Luthor
"Exile"
October 1, 2003
Lionel Luthor
"Phoenix"
October 8, 2003
Lionel Luthor
"Extinction"
October 15, 2003
Lionel Luthor
"Slumber"
October 22, 2003
Lionel Luthor
"Relic"
November 5, 2003
Lionel Luthor
"Shattered"
November 19, 2003
Lionel Luthor
"Asylum"
January 14, 2004
Lionel Luthor
"Whisper"
January 21, 2004
Lionel Luthor
"Obsession"
February 18, 2004
Lionel Luthor
"Crisis"
March 6, 2004
Lionel Luthor
"Legacy"
April 14, 2004
Lionel Luthor
"Truth"
April 21, 2004
Lionel Luthor
"Memoria"
April 28, 2004
Lionel Luthor
"Talisman"
May 5, 2004
Lionel Luthor
"Forsaken"
May 12, 2004
Lionel Luthor
"Covenant"
May 19, 2004
Lionel Luthor
"Crusade"
September 22, 2004
Lionel Luthor
"Gone"
September 29, 2004
Lionel Luthor
"Transference"
October 27, 2004
Lionel Luthor
Clark Kent
"Bound"
November 17, 2004
Lionel Luthor
"Scare"
December 1, 2004
Lionel Luthor
"Unsafe"
January 26, 2005
Lionel Luthor
"Krypto"
February 16, 2005
Lionel Luthor
"Sacred"
February 23, 2005
Lionel Luthor
"Lucy"
March 2, 2005
Lionel Luthor
"Onyx"
April 13, 2005
Lionel Luthor
"Ageless"
May 4, 2005
Lionel Luthor
"Forever"
May 11, 2005
Lionel Luthor
"Commencement"
May 18, 2005
Lionel Luthor
"Arrival"
September 29, 2005
Lionel Luthor
"Mortal"
October 6, 2005
Lionel Luthor
"Hidden"
October 13, 2005
Lionel Luthor
Jor-El
"Splinter"
November 10, 2005
Lionel Luthor
"Solitude"
November 17, 2005
Lionel Luthor
"Lexmas"
December 8, 2005
Lionel Luthor
"Fanatic"
January 12, 2006
Lionel Luthor
"Reckoning"
January 26, 2006
Lionel Luthor
"Vengeance"
February 2, 2006
Lionel Luthor
"Tomb"
February 9, 2006
Lionel Luthor
"Cyborg"
February 16, 2006
Lionel Luthor
"Void"
April 6, 2006
Lionel Luthor
"Mercy"
April 20, 2006
Lionel Luthor
"Oracle"
May 4, 2006
Lionel Luthor
"Vessel"
May 11, 2006
Lionel Luthor
"Zod"
September 28, 2006
Lionel Luthor
"Sneeze"
October 5, 2006
Lionel Luthor
"Arrow"
October 19, 2006
Lionel Luthor
"Reunion"
October 26, 2006
Lionel Luthor
"Rage"
November 9, 2006
Lionel Luthor
"Static"
November 16, 2006
Lionel Luthor
"Justice"
January 18, 2007
Lionel Luthor
"Promise"
March 15, 2007
Lionel Luthor
"Nemesis"
April 26, 2007
Lionel Luthor
"Noir"
May 3, 2007
Lionel Luthor
"Prototype"
May 10, 2007
Lionel Luthor
"Phantom"
May 17, 2007
Lionel Luthor
"Bizarro"
September 27, 2007
Lionel Luthor
"Action"
October 25, 2007
Lionel Luthor
"Lara"
November 1, 2007
Lionel Luthor
"Wrath"
November 8, 2007
Lionel Luthor
"Blue"
November 15, 2007
Lionel Luthor
"Persona"
January 31, 2008
Lionel Luthor
Braniac
"Siren"
February 7, 2008
Lionel Luthor
"Fracture"
February 14, 2008
Lionel Luthor
"Hero"
March 13, 2008
Lionel Luthor
"Traveler"
March 20, 2008
Lionel Luthor
"Veritas"
March 27, 2008
Lionel Luthor
"Descent"
April 17, 2008
Lionel Luthor
"Luthor"
December 3, 2010
Lionel Luthor (Alternate reality)
"Beacon"
February 11, 2011
Lionel Luthor (Alternate reality)
"Scion"
March 4, 2011
Lionel Luthor (Alternate reality)
"Finale, Part II"
May 13, 2011
Lionel Luthor (Alternate reality)
Darkseid