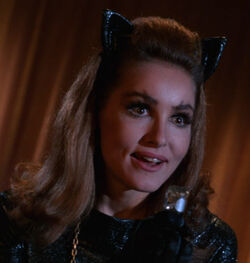 Julie Newmar
(
b.
August 16, 1933) portrayed
Catwoman
on the series
Batman
. Even though the related film
Batman
was completed before the series aired, with
Lee Meriwether
in the role of Catwoman, Newmar is considered the first actress to play the role. In 2003 she starred in a comedic retrospective about the Batman TV series, in which she plays a version of herself, entitled
Return to the Batcave: The Misadventures of Adam and Burt
.
She also voiced Martha Wayne alongside Adam West for the animated series Batman: The Brave And The Bold.

(External Links: The actor's entries on IMDb and Wikipedia)


Selected Filmography
Batman
| Episode | Date | Role |
| --- | --- | --- |
| "The Purr-fect Crime" | March 16, 1966 | Catwoman |
| "Better Luck Next Time" | March 17, 1966 | Catwoman |
| "Hot Off the Griddle" | September 14, 1966 | Catwoman |
| "The Cat and the Fiddle" | September 15, 1966 | Catwoman |
| "Ma Parker" | October 6, 1966 | Catwoman |
| "The Cat's Meow" | December 14, 1966 | Catwoman |
| "The Bat's Kow Tow" | December 15, 1966 | Catwoman |
| "The Sandman Cometh" | December 28, 1966 | Catwoman |
| "The Catwoman Goeth" | December 29, 1966 | Catwoman |
| "That Darn Catwoman" | January 19, 1967 | Catwoman |
| "Scat! Darn Catwoman" | January 25, 1967 | Catwoman |
| "Catwoman Goes to College" | February 22, 1967 | Catwoman |
| "Batman Displays His Knowledge" | February 23, 1967 | Catwoman |