Ad blocker interference detected!
Wikia is a free-to-use site that makes money from advertising. We have a modified experience for viewers using ad blockers

Wikia is not accessible if you've made further modifications. Remove the custom ad blocker rule(s) and the page will load as expected.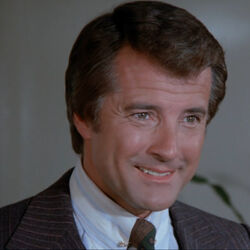 Lyle Waggoner
(
b.
April 13, 1935) potrayed
Steve Trevor
on the series
Wonder Woman
which ran for one season on ABC and two season on CBS. When the show switched networks and shifted the setting from World War II to the present, Waggoner stayed on though his role was changed to
Steve Trevor, Jr.
, the son of his original character.
In 1965, Waggoner was one of the actors considered for the title role of Batman. While he did participate in final screen test for the role, Adam West was ultimately chosen for the role. The casting of the character was presented as part of the retrospective on the series Return to the Batcave: The Misadventures of Adam and Burt, which Waggoner narrated.

(External Links: The actor's entries on IMDb and Wikipedia)


Selected Filmography
| Series/Episode | Date | Role |
| --- | --- | --- |
| Wonder Woman | 1975-1979 | |
|      "The New Original Wonder Woman" | November 7, 1975 | Steve Trevor |
|      "Wonder Woman Meets Baroness Von Gunther" | April 21, 1976 | Steve Trevor |
|      "Fausta: The Nazi Wonder Woman" | April 28, 1976 | Steve Trevor |
|      "Beauty on Parade" | October 13, 1976 | Steve Trevor |
|      "The Feminum Mystique (Part I)" | November 6, 1976 | Steve Trevor |
|      "The Feminum Mystique (Part II)" | November 8, 1976 | Steve Trevor |
|      "Wonder Woman vs. Gargantua!" | December 18, 1976 | Steve Trevor |
|      "The Pluto File" | December 25, 1976 | Steve Trevor |
|      "Last of the Two Dollar Bills" | January 8, 1977 | Steve Trevor |
|      "Judgment From Outer Space (Part I)" | January 15, 1977 | Steve Trevor |
|      "Judgment From Outer Space (Part II)" | January 17, 1977 | Steve Trevor |
|      "Formula 407" | January 22, 1977 | Steve Trevor |
|      "The Bushwackers" | January 29, 1977 | Steve Trevor |
|      "Wonder Woman in Hollywood" | February 16, 1977 | Steve Trevor |
|      "The Return of Wonder Woman" | September 16, 1977 | Steve Trevor, Jr. |
|      "Anschluss '77" | September 23, 1977 | Steve Trevor, Jr. |
|      "The Man Who Could Move the World" | September 30, 1977 | Steve Trevor, Jr. |
|      "The Bermuda Triangle Crisis" | October 7, 1977 | Steve Trevor, Jr. |
|      "Knockout" | October 14, 1977 | Steve Trevor, Jr. |
|      "The Pied Piper" | October 21, 1977 | Steve Trevor, Jr. |
|      "The Queen and the Thief" | October 28, 1977 | Steve Trevor, Jr. |
|      "I Do, I Do" | November 11, 1977 | Steve Trevor, Jr. |
|      "The Man Who Made Volcanoes" | November 18, 1977 | Steve Trevor, Jr. |
|      "Mind Stealers from Outer Space (Part I)" | December 2, 1977 | Steve Trevor, Jr. |
|      "Mind Stealers from Outer Space (Part II)" | December 9, 1977 | Steve Trevor, Jr. |
|      "The Deadly Toys" | December 30, 1977 | Steve Trevor, Jr. |
|      "Light-Fingered Lady" | January 6, 1978 | Steve Trevor, Jr. |
|      "Screaming Javelin" | January 20, 1978 | Steve Trevor, Jr. |
|      "Diana's Disappearing Act" | February 3, 1978 | Steve Trevor, Jr. |
|      "Death in Disguise" | February 10, 1978 | Steve Trevor, Jr. |
|      "I.R.A.C. is Missing" | February 17, 1978 | Steve Trevor, Jr. |
|      "Flight to Oblivion" | March 3, 1978 | Steve Trevor, Jr. |
|      "Seance of Terror" | March 10, 1978 | Steve Trevor, Jr. |
|      "The Man Who Wouldn't Tell" | March 31, 1978 | Steve Trevor, Jr. |
|      "The Girl from Ilandia" | April 7, 1978 | Steve Trevor, Jr. |
|      "The Murderous Missile" | April 21, 1978 | Steve Trevor, Jr. |
|      "My Teenage Idol is Missing" | September 22, 1978 | Steve Trevor, Jr. |
|      "Hot Wheels" | September 29, 1978 | Steve Trevor, Jr. |
|      "The Deadly Sting" | October 6, 1978 | Steve Trevor, Jr. |
|      "The Fine Art of Crime" | October 13, 1978 | Steve Trevor, Jr. |
|      "Disco Devil" | October 20, 1978 | Steve Trevor, Jr. |
|      "Formicida" | November 3, 1978 | Steve Trevor, Jr. |
|      "Time Bomb" | November 10, 1978 | Steve Trevor, Jr. |
|      "Skateboard Wiz" | November 24, 1978 | Steve Trevor, Jr. |
|      "The Deadly Dolphin" | December 1, 1978 | Steve Trevor, Jr. |
|      "Stolen Faces" | December 15, 1978 | Steve Trevor, Jr. |
|      "Pot of Gold" | December 22, 1978 | Steve Trevor, Jr. |
|      "Gault's Brain" | December 29, 1978 | Steve Trevor, Jr. |
|      "Going, Going, Gone" | January 12, 1979 | Steve Trevor, Jr. |
|      "Spaced Out" | January 26, 1979 | Steve Trevor, Jr. |
|      "The Starships are Coming" | February 2, 1979 | Steve Trevor, Jr. |
|      "Amazon Hot Wax" | February 16, 1979 | Steve Trevor, Jr. |
|      "The Richest Man in the World" | February 19, 1979 | Steve Trevor, Jr. |
|      "A Date with Doomsday" | March 10, 1979 | Steve Trevor, Jr. |
|      "The Girl with a Gift for Disaster" | March 17, 1979 | Steve Trevor, Jr. |
|      "The Boy Who Knew Her Secret (Part I)" | March 28, 1979 | Steve Trevor, Jr. |
|      "The Boy Who Knew Her Secret (Part II)" | March 29, 1979 | Steve Trevor, Jr. |
|      "Phantom of the Roller Coaster (Part I)" | September 4, 1979 | Steve Trevor, Jr. |
|      "Phantom of the Roller Coaster (Part II)" | September 11, 1979 | Steve Trevor, Jr. |