Ad blocker interference detected!
Wikia is a free-to-use site that makes money from advertising. We have a modified experience for viewers using ad blockers

Wikia is not accessible if you've made further modifications. Remove the custom ad blocker rule(s) and the page will load as expected.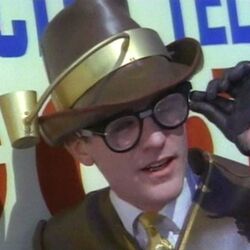 Roddy McDowall
(
b.
September 17, 1928 -
d.
October 3, 1998) portrayed
the Bookworm
on the 1966 series
Batman
. He also voiced
Jervis Tetch/The Mad Hatter
for the animated series
Batman
.
(External Links: The actor's entries on IMDb and Wikipedia)


Selected Filmography
| Series/Episode | Date | Role |
| --- | --- | --- |
| Batman | 1966-1968 | |
|      "The Bookworm Turns" | April 20, 1966 | Bookworm |
|      "While Gotham City Burns" | April 20, 1966 | Bookworm |
| Wonder Woman | 1975-1979 | |
|      "The Man Who Made Volcanoes" | November 18, 1977 | Professor Chapman |
|      "The Fine Art of Crime" | October 13, 1978 | Henry Roberts |
| Batman | 1992-1996 | |
|      "Mad as a Hatter" | October 12, 1992 | Jervis Tetch/The Mad Hatter |
|      "Perchance to Dream" | October 19, 1992 | Jervis Tetch/The Mad Hatter |
|      "The Worry Men" | September 16, 1993 | Jervis Tetch/The Mad Hatter |
|      "Trial" | May 16, 1994 | Jervis Tetch/The Mad Hatter |
| The New Batman Adventures | 1997-1999 | |
|      "Over the Edge" | May 23, 1998 | Jervis Tetch/The Mad Hatter |
|      "Animal Act" | September 26, 1998 | Jervis Tetch/The Mad Hatter |
| Superman | 1996-2000 | |
|      "Knight Time" | October 10, 1998 | Jervis Tetch/The Mad Hatter |