Ad blocker interference detected!
Wikia is a free-to-use site that makes money from advertising. We have a modified experience for viewers using ad blockers

Wikia is not accessible if you've made further modifications. Remove the custom ad blocker rule(s) and the page will load as expected.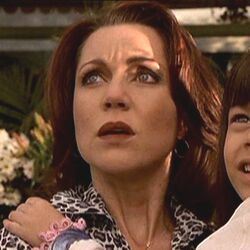 Sarah-Jane Redmond
portrayed
Nell Potter
on the television series
Smallville
and Mrs. Reston on the series
Arrow
.
(External Links: The actor's entries on IMDb and Wikipedia)


Selected Filmography
| Series/Episode | Date | Role |
| --- | --- | --- |
| Smallville | 2001-2011 | |
|      "Pilot" | October 16, 2001 | Nell Potter |
|      "Hothead" | October 30, 2001 | Nell Potter |
|      "X-Ray" | November 06, 2001 | Nell Potter |
|      "Craving" | November 27, 2001 | Nell Potter |
|      "Shimmer" | January 29, 2002 | Nell Potter |
|      "Leech" | February 12, 2002 | Nell Potter |
|      "Kinetic" | February 26, 2002 | Nell Potter |
|      "Duplicity" | October 8, 2002 | Nell Potter |
|      "Redux" | October 29, 2002 | Nell Potter |
|      "Ryan" | November 12, 2002 | Nell Potter |
|      "Promise" | March 15, 2007 | Nell Potter |
| Arrow | 2012- | |
|      "Legacies" | November 14, 2012 | Mrs. Reston |
| iZombie | 2015- | |
|      "Brother, Can You Spare a Brain?" | March 24, 2015 | Jackie |
|      "Live and Let Clive" | April 7, 2015 | Jackie |
|      "Virtual Reality Bites" | April 21, 2015 | Jackie |