Allen Adam (Earth-4)
Talk

8
79,978pages on
this wiki
Little is known of Captain Adam. Given his name and powers, he is likely to be his home universe's analogue of Captain Atom. However, he is also described as a "Quantum Superman", and he is considered by the Monitors to be his world's equivalent of Superman.
Prior to obtaining his powers Captain Adam was present when an experimental uranium engine was being tested, but it exploded, turning him into a disembodied mind with no sense of time. From his new perspective, he built himself a better body, retaining his quantum senses. However, Adam was afraid of what he has become and is uncomfortable with his new abilities. He uses drugs to dampen the effects of his "quantum senses" and prefers to do as he is told by his masters in the military.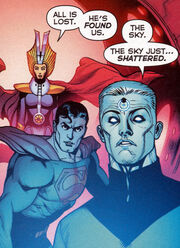 During the events of Final Crisis, he was recruited by Monitor Zillo Valla to fight Mandrakk the Dark Monitor; however, he was on board her ship when it was attacked by the destroyer Echo of Midnight, and only his use of the infinite navigation computer was enough to save the rest of the group by crash-landing in Limbo. There he helped fix the ship, but Monitor Zillo Valla arranged for the drugs managing his quantum-sense to wear off, and he united the minds of Superman and Ultraman to fight Mandrakk the Dark Monitor.

Powers and AbilitiesEdit
Powers
The full scope of Adam's powers are unknown, but he has the ability to change his own size and levitate.
He possesses amazing mental abilities; on one occasion, he interfaced with a computer built by a Monitor and read 100 yottabytes (one septillion or 1024 bytes) of information in a short time. He also possesses "quantum-sense", making him capable of knowing potentially everything.
A second facet of the quantum-sense is that he possesses no natural divisions in his perception of time, perceiving the past and the present while rambling in the present.
His quantum-senses are overpowering, and he takes an unknown drug in order to suppress them; however, when the drug wears off his senses reassert themselves. Tachyon energy fields may affect his senses in the same way.
Abilities
Aviation: Adam was a trained USAF pilot prior to his transformation.

Related
Discover and Discuss
Footnotes