Animal Man Vol 1 9
Talk

0
80,092pages on
this wiki

"Home Improvements"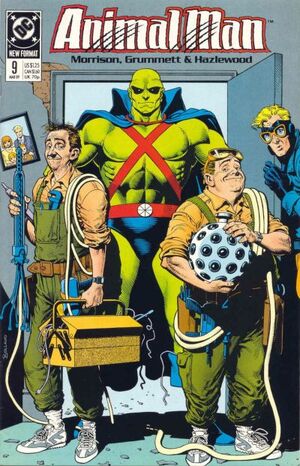 Previous Issue
Next Issue
Appearing in "Home Improvements"
Featured Characters:
Supporting Characters:
Villains:
Other Characters:
Mike Buckley (First appearance)
T.C. the cat
Locations:
Items:
Vehicles:
Synopsis for "Home Improvements"
As Cliff Baker walks home, a bully named Buckley mocks him, and calls him "Animal Boy." Afterward, a mysterious figure appears behind him, uttering his name.
In the Baker home, Buddy plays with the family cat, T.C. while his daughter Maxine looks on impatiently. All the while, someone is knocking on the door, and Ellen becomes increasingly frustrated. When she decides to open the door herself, the family is surprised to see the Martian Manhunter standing there.
The Manhunter explains that as part of Buddy's membership in the Justice League Europe, his house will be repaired for free, after it is damaged by a super-villain (such as the Mirror Master, who had done so recently). Ellen and Buddy are pleased, but she pushes him to reveal that his powers are malfunctioning.
Elsewhere, an amnesic man named James Highwater finds a mysterious message regarding the Psycho Pirate in what he believes is his apartment.
Despite Buddy's condition, Martian Manhunter explains that he wants Animal Man on the Justice League because of his reverence and advocacy for animals and the earth. Manhunter suggests that Buddy see a doctor who has been helping other heroes whose powers have been affected by the Gene Bomb, and buddy promises to see him after dealing with a fox hunt in Britain. They then return home.
Cliff comes home in an angry mood, and explains that he has been bullied, and that Buckley has stolen his bike. The Martian Manhunter develops a plan to get it back, in which he impersonates Cliff, and then transforms into a monster, scaring away the bullies.
Somewhere in Africa, a Shaman warns that the gods are coming.


Notes
T.C. the cat's name is revealed in this issue.
Trivia
See Also
Recommended Reading
Links and References