Aquaman: Sword of Atlantis Vol 1 40
Talk

0
79,978pages on
this wiki

"
Once and Future
, Part One of Six"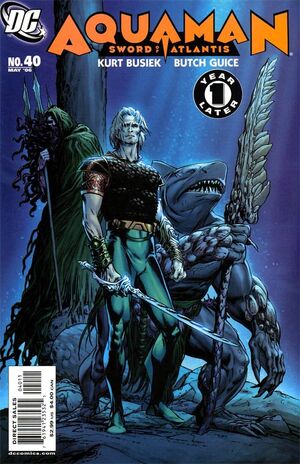 Previous Issue
Next Issue
Appearing in "Once and Future, Part One of Six"
Featured Characters:
Supporting Characters:
Villains:
Other Characters:
Locations:
Curry-Jonas Oceanographic Center
Items:
Vehicles:
Synopsis for "Once and Future, Part One of Six"
During a storm Arthur Joseph Curry falls into the ocean. Disoriented, he is contacted telepathically by the unseen Dweller in the Depths, who upon learning Arthur's name guides him to the Carassian Hills. There, at the Dweller's telepathic urging, he assist King Shark against a group of Aurati raiders. King Shark summons sharks to fight the Aurati, and the Dweller guides Arthur and King Shark to him, revealing himself as a humanoid with a trident and a squid-like head. The Dweller gives Arthur an amulet that lets him understand the language of undersea races, and directs Arthur to a cave to put on proper raiment. The Dweller tries to heal the open wound on King Shark's chest, but despite his magic he cannot.
The Dweller tries to tell King Shark he has a role to play, but Arthur returns in Aquaman's uniform, and King Shark flies into a rage, for Aquaman had pierced him with a spear. To the Dweller's surprise Arthur insists he does not know of Aquaman or Orin. He is the son of Dr. Phillip Curry, who was forced to test a mutative serum on him when he was born prematurely, giving Arthur gills. The Dweller delivers a prophecy that sounds very similar, though not identical, to the previous history of Aquaman, and declares he and King Shark are there to guide him on the hero's path. King Shark is skeptical, but reveals that Aquaman has been missing for a while. The issue ends with the Dweller writing in his journal with a hand made of hard water.


Notes
The title, "Once and Future", is a reference to T.H. White's "The Once and Future King", a famous Arthurian fantasy. Aquaman contains many references to Arthurian legend (such as his name, Arthur, his raising by foster parents, and his home of Avalon Cay).
The flashback panel in which King Shark is stabbed comes from Infinite Crisis #3
The Dweller in the Depths' prophecy includes images of Arthur Curry (Aquaman's father), Atlanna, Atlantis, Mera, and strange, aquatic versions of the Justice League.
The Dweller in the Depths has a hand made of hard water, just like Aquaman once did.
Trivia
See Also
Recommended Reading
Links and References