Aquaman Vol 7 7
Talk

0
89,126pages on
this wiki

"The Others": In the jungles of Brazil, Kahina the Seer is chased by Black Manta. She and Black Manta fight, but Manta defeats her and takes her hood off and the same time he takes his helmet off, so that they can see each other face to face. Saying that he knows she is looking for the "savage g
"The Others"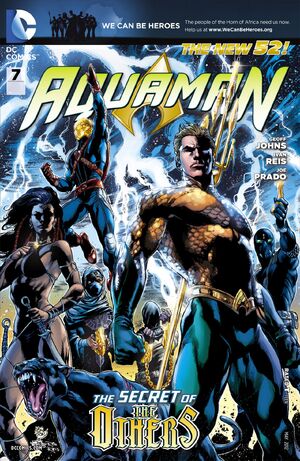 Previous Issue
Next Issue
Appearing in "The Others"
Featured Characters:
Supporting Characters:
Villains:
Other Characters:
The Others (First appearance) (In a photograph only)
Locations:
Items:
Vehicles:
Synopsis for "The Others"
In the jungles of Brazil, Kahina the Seer is chased by Black Manta. She and Black Manta fight, but Manta defeats her and takes her hood off and the same time he takes his helmet off, so that they can see each other face to face. Saying that he knows she is looking for the "savage girl", Black Manta tells Kahina he will kill her husband and children. As he fatally stabs her, Kahina speaks the name "Arthur", and Black Manta replies that Arthur cannot help her and he will lose everything, just like he lost everything. Black Manta grabs a strange artifact Kahina had kept and leaves her Kahina to die, and she has a final vision of Black Manta killing Aquaman with his own trident.
Meanwhile, Aquaman and Mera help some ships to reach the coast after a storm hits. After finishing their job, Aquaman and Mera go to Stephen Shin's house, intending to ask him about the Altantean relic they found on the trench. Mera expresses doubt that Shin will tell them what they need to know, but Aquaman replies that Atlantis is the only thing Shin is honest about.
Entering Shin's house, Aquaman and Mera show him the relic and ask him if he can discover who was the one who sank Atlantis. Shin says that it is possible someone was responsible, as Atlantis was the most powerful civilization in the world, and it had enemies everywhere. When Shin asks about the Trench's creatures, Aquaman replies that he caused a volcanic explosion that trapped the creatures inside the Trench, effectively killing them. Replying that perhaps the creatures survived, Shin says that it is possible the creatures are connected to Atlantis more than they think. He then activates the relic and replays the message inside.
Then, a mysterious woman called Ya'Wara and her panther break into Shin's house and try to kill him, but Mera tries to stop them. Before Mera and Ya'Wara can attack each other, Aquaman stops them. Ya'Wara is surprised that Aquaman is showing mercy to the surface-dwellers, let alone Shin. She then tells Aquaman that Black Manta killed Kahina and took the golden seal she had. She also belives that Shin told Black Manta about Kahina and the seal. Mera asks Aquaman what's going on and who is Ya'Wara.


Notes
Trivia
See Also
Recommended Reading
Links and References