Arnold Wesker (New Earth)
Talk

4
79,941pages on
this wiki
Origins
Arnold Wesker has always been a meek and timid character, even as a child. When he was very young, his parents took him to the Gotham City shipyards to see an albatross, which was something of a local attraction. Terrified, Arnold demanded to be taken home immediately. During this incident, a Spivey's Display Dummies truck rolled down the street, striking and killing both parents before young Arnold's eyes. Convinced that the albatross was an omen and traumatized by the violent incident, Wesker coped by repressing all emotion, furthering his timid stature.[1]
The repression resulted in a psychotic breakdown for Wesker, in which he killed a man during a bar-fight (by Wesker's own account, the murder was completely accidental). He was arrested and sent to Blackgate Prison. There he was placed in a cell with an inmate by the name of Donnegan, who harbored an intense interest in ventriloquism. Donnegan's most prized possession was a puppet named "Woody", over which he was greatly protective. Despite Donnegan's mercurial nature, Wesker became enamored with the dummy and even went so far as to attempt handling "Woody" when Donnegan was out of the cell. When Donnegan discovered them, he punched Wesker in the face, shouting that nobody touches his puppet.
Wesker eventually grew despondent during his incarceration and prepared to hang himself while Donnegan slept. Despite the fact that Donnegan was unconscious, "Woody" began talking to Wesker. The puppet as ignored at first, with Wesker believing it to be a trick of Donnegan's (either consciously or subconsciously on Donnegan's part). However, "Woody" insisted that he was acting independently of Donnegan's control. He convinced Wesker to forgo suicide in favor of escaping from prison, revealing that Donnegan had been secretly digging an escape tunnel from his cell for the past fifteen years. While the two spoke, Donnegan awakened and attacked Wesker, brutally beating him down. He also stabbed at Woody with a corkscrew, creating a long scar across the right hand side of the puppet's face. Arnold fought back and smashed Donnegan along the side of the face with a loose brick. Wesker then strung the body up with the noose originally intended for his on suicide, and escaped the prison with the dummy using Donnegan's tunnel.
The tunnel led to the shoreline of the island near the prison boathouse. At Woody's urging, Wesker picked up a riot shotgun and killed two guards, before stealing a raft. They paddled to the mainland of Gotham City and acquired a fresh set of clothes. The puppet, unsatisfied with the name that Donnegan had given him, decided to provide himself with a new name; one more befitting an angry criminal mind with high ambitions – Scarface.[2]
Scarface became the vehicle through which Wesker could express all of his years of bottled-up rage. It was clear early on, however, that Scarface was the dominant partner in their relationship, and Wesker always maintained a subservient and obedient countenance.
Criminal Career
Calling himself the Ventriloquist, Wesker became a powerful drug lord in Gotham City – but it was actually Scarface calling all of the shots. They operated out of a trendy hotspot on Electric Street called the Ventriloquist Club. The bouncer of the Ventriloquist Club was an over-sized leg-breaker named Rhino. Like many of the Ventriloquist's underlings, Rhino paid very little attention to Wesker himself, but was devoutly loyal to Scarface.
The Ventriloquist and Scarface made their marks in the Gotham underworld through the sale and distribution of a designer drug called Fever. Processed in Tijuana, Mexico, they had the drugs smuggled into Gotham City inside of human cadavers. This earned them the attention of Gotham's nocturnal vigilante, the Batman. The Batman raided Rizzo's Funeral Parlor, where the Ventriloquist and Scarface were busy extracting drugs from the remains of a dead gangster named William Henry "Fatman" Cherry. Batman fought through the Ventriloquist's armed men and apprehended the drug lord and his puppet master.[3]
Wesker spent very little time in prison, however, and before long, Scarface and he were reunited and back in operation at the Ventriloquist Club. Wesker actually wanted to retire from a life of crime, but Scarface wouldn't hear of it. They discovered that while they were serving time, a criminal gang known as the Street Demonz had taken over Scarface's drug operations. One of Scarface's closest enforcers, Bruno, betrayed his former employer and threw his lot in with the Street Demonz. During a gunfight between Wesker's men and the Street Demonz, Scarface's body was riddled with bullets. For a brief moment, Wesker felt that he was finally free of the puppet's control. He even built a small coffin for his damaged wooden partner. Unfortunately, Scarface still had control over the Ventriloquist, even in "death". Wesker heard the dummy's voice from within the coffin, and set him free. He repaired the damage from the bullets and Scarface was back in action.[4]
Following another resounding defeat at the hands of the Batman, the Ventriloquist was apprehended and sent to Arkham Asylum. Time passed until one day a criminal known as Bane masterminded an elaborate scheme to weaken the Batman's resolve by blowing up the side of Arkham, setting dozens of psychopathic felons free. Wesker was but one of many violent patients to escape from Arkham during the chaos. Although no longer confined to a cell, he was still lost without the commanding presence of Scarface.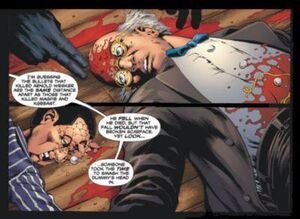 Desperate to compensate for Scarface's absence, Arnold briefly took to using an old sock as a hand puppet, naming it (appropriately enough), Socko.[5]
Wesker and Scarface were reunited soon after and attempted to gain a foothold in the Wharfdale area of Gotham by eliminating a rival gangster named Marty Vetch. Scarface made a severe impact in Vetch's operations by killing one of his main drug suppliers and contaminating a shipment of heroin that belonged to Vetch's cartel. The feud between Scarface and Vetch came to a head outside of the Ventriloquist Club. During this time, Bruce Wayne had relinquished the role of Batman to his first ward Dick Grayson. As Batman, Grayson and Robin (Tim Drake) raided Marty Vetch's penthouse and fought with the Ventriloquist's thugs. Wesker attempted to flee down a fire escape and Scarface and he were separated. The Ventriloquist was captured once again and sent to Blackgate Prison for psychological evaluation.[6]
While Wesker languished away in prison, Scarface wound up in the hands of his old enforcer, Rhino. Rhino attempted to operate the puppet, but Scarface wouldn't respond to him. After numerous attempts however, Scarface began to communicate through Rhino, who instructed him to make a deal with the Penguin in order to stage a prison breakout. The Penguin agreed, and before long, the Ventriloquist was free.[7]
The two resumed their old lifestyle and crossed paths with the Batman on several more encounters. In one instance, a crazed Batman nearly killed the Ventriloquist, but instead opted to destroy Scarface instead.[8] The Ventriloquist repaired Scarface yet again, only this time the criminal duo set their sights on their competition, notably the Penguin.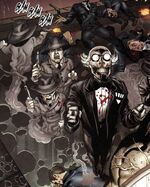 Death
Not long ago, a rising star in the Gotham City underworld known as the Great White Shark sent his assassin, the Tally Man, on a citywide spree, murdering many costumed criminals. The Tally Man targeted the Ventriloquist and fired a fatal shot into his head.[9]
Resurrection
During Blackest Night, the Ventriloquist is resurrected by the forces of Nekron to become a member of the new Black Lantern Corps. Although he no longer has the physical Scarface, he has been seen creating an army of constructs that look like them with his Black Lantern Ring.[10]
DCnU


The DC Universe heavily changed its continuity into the DCnU following the events of Flashpoint in 2011. This was part of an effort to make storylines more accessible to newer readers, beginning with the New 52. This new timeline combines elements from the DCU, Vertigo Universe and Wildstorm Universe while drastically changing the origins and histories of characters.

After the Events of Flashpoint, the DCU was drastically changed. Arnold Wesker is still alive and is still the Ventriloquist. He fought against Robin and Nightwing.

Powers and AbilitiesEdit
Abilities
Ventriloquism: Arnold is a skilled ventriloquist, an act of stagecraft in which the person changes his voice so that it appears that the voice is coming from elsewhere, usually a his puppet Scarface. The ability to do so is called throwing one's voice.
Tactical Analysis: The Scarface persona is a brilliant criminal strategist and tactician.
Weaknesses
ParaphernaliaEdit
Equipment
Weapons
It has never been clear whether Scarface was actually just an aspect of Wesker's multiple personality disorder, or if he had actually somehow gained sentience. There have been several instances where Scarface has functioned independently of a human controller, but this may also be a reflection of the controller's mental state at the given moment. On occasion, Scarface has been animate during times when Wesker was asleep or unconscious, or not even present at all. One of the strongest arguments for suggesting that Scarface may be a separate consciousness is the fact that he always maintains the same personality no matter who is operating him. In the case of Donnegan, however, Scarface's diction was much better, and he didn't replace the letter "B" with a "G" as was the case with Wesker.

Arnold is unable to pronounce any word with a letter "B" accurately without moving his lips, giving Scarface a speech impediment. He compensates for this by using the letter "G" as he often calls the Dark Knight "Gatman".

Recommended ReadingEdit
Related
Discover and Discuss
Footnotes