Basil Nurblin (New Earth)
Talk

0
80,064pages on
this wiki

Francine Nurblin (wife),
Luna Nurblin
(Colonel Computron II, daughter)
Status
Characteristics
Origin
First appearance
Appearance of Death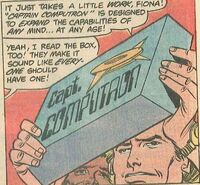 The armored Colonel Computron appeared out of nowhere to attack Willard W. Wiggins, president of Wiggins Toy Corporation, shortly after the release of the top-selling Captain Computron toys. The primary suspects were the disgruntled employee who invented the toy, Basil Nurblin, and his wife Francine and daughter Luna. After a follow-up attack on the Flash with Captain Boomerang, Colonel Computron faded from view. Colonel Computron later resurfaced working for international crime cartel Les Mille Yeux (The Thousand Eyes), capturing Starman and an experimental transmutation machine. After Phantom Lady and Rampage freed Starman and defeated Colonel Computron, they learned that Basil had been the original Computron, then Luna put on the suit when Les Mille Yeux came hiring. Black marketeer Blacksmith used robotic "Computron" units to guard the Network. A Computron has appeared, working with the Rainbow Raiders, in the guise of a floating head with destructive eye-beams. The face appears male, but it is not clear whether this is Basil Nurblin or someone new using the identity.

Although this character was originally introduced during DC's Earth-One era of publication, their existence following the events of the 1985-86 limited series Crisis on Infinite Earths remains intact. However, some elements of the character's Pre-Crisis history may have been altered or removed for Post-Crisis New Earth continuity, and should be considered apocryphal.
Related
Discover and Discuss
Footnotes

Flash Villain(s)
This character, team, or organization, is or was primarily an enemy of any or all of the various incarnations of the Flash. This template will categorize articles that include it into the category "Flash Villains."