Batman: A Death in the Family (Collected)
Talk

0
76,943pages on
this wiki

"A Death in the Family"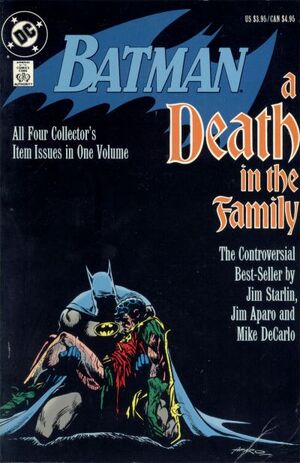 "Chapter Two"
"Chapter Three"
"Chapter Four"
Previous Issue
Next Issue
—
—
Appearing in "Chapter One"
Featured Characters:

Supporting Characters:

Villains:

Peter Brando (Single appearance)g
Jamal (Single appearance)
Rupert (Single appearance)
Gaspar Taylor (Single appearance)
(flashback only)
A ring of child pornographers (Single appearance)
Other Characters:

Locations:

Items:

Geiger counter
Jet-powered hang gliders
A stolen cruise missile
Vehicles:

A stolen C-130 cargo plane


Synopsis for "Chapter One"
Batman and Robin stake out the warehouse of a child pornography ring awaiting police backup, but Robin rushes in early against Batman's orders. While stopping the criminals, Batman mentally notes Robin's odd, moody behavior of late. After chiding Robin, Bruce returns home to discuss the situation with Alfred and decides to remove his ward from duty effective immediately. Jason overhears and angrily leaves.
Batman is soon called to Arkham Asylum after the Joker escapes. Commissioner Gordon tells the Dark Knight how the Joker used cleaning supplies to make his lethal laughing gas, killing eight men.
The Joker tells his associate Rupert how his assets were seized during his incarceration, but reveals a cruise missile and launch vehicle in storage he obtained from a military contact. The Clown Prince of Crime decides to sell the weapon to Arab terrorists.
While walking through Gotham City, Jason Todd ends up in Crime Alley and visits his mother's friend, Mrs. Walker. Mrs. Walker gives Jason a box full of personal effects – which are a little water-damaged – and sends the boy on his way.
Batman surprises Gaspar Taylor, a known associate of the Joker, but knocks him out before he can obtain any information. Searching the criminal's luggage, Batman finds a passport and visa for Lebanon. Over the next few hours, none of the Joker's former henchmen can be found.
While perusing his parents' personal effects, Jason finds his birth certificate with his mother's name marked out and beginning with the letter S. Realizing Catherine Todd was his stepmother, Jason searches the box where he finds his father's now out-of-date address book which contains the names of three women whose names start with S, one of whom might be his biological mother, and uses the Batcomputer to locate them. He leaves Wayne Manor to begin his investigation.
In the air, the Joker and his gang are en route to Lebanon aboard a stolen Navy C-130 cargo plane while Jason Todd is aboard an airliner.
Meanwhile, Batman finds the Joker's hideout and realizes his arch foe has left for Lebanon with a nuclear weapon to replenish his cash flow. Our hero quickly returns to the Batcave where Alfred informs him that Jason has run away. Batman is left with a dilemma: stay in Gotham City and locate Jason or stop the Joker.
Later, Batman leads a team of naval commandos to Lebanon to recover the stolen C-130 and discovers that the Joker has indeed smuggled a nuclear device into Middle Eastern nation. Changing out of his costume, Bruce Wayne contacts Alfred and learns Jason booked a flight to Israel.
In Israel, Robin breaks into a military base to find the whereabouts of Sharmin Rosen, an intelligence agent who may be his mother. Using computer records, he learns Rosen is working undercover in Beirut, Lebanon. Meanwhile, Bruce Wayne arrives in Lebanon and goes into action as Batman to gain information from some terrorists about the missile. He learns that a man named Peter Brando is offering the weapon for sale at the Hotel Blu, where Sharmin Rosen is staying.
Jason arrives at the Hotel Blu and finds Bruce. Jason tells Bruce about his investigation but becomes downtrodden when told of Bruce's mission to stop the Joker. Suddenly, they spot Brando with Rosen and follow in a pair of jet-powered hang gliders. The caped crusaders witness the Joker's sale of the smuggled cruise missile to Jamal, a terrorist who wants to launch the device at Tel Aviv. The gathering is interrupted by Batman and Robin, who are soon joined by Sharmin Rosen. When the missile is fired, it explodes in its launcher but the warhead fails to detonate. The Joker escapes in the ensuing confusion.
Robin learns Rosen is not his mother and the three return to Beirut. Robin insists on finding his mother and Batman agrees to help. However, a disguised Joker books a flight to Addis Ababa, Ethiopia.


Appearing in "Chapter Two"
Featured Characters:

Supporting Characters:

Villains:

Other Characters:

Ralph Bundy (Behind the scenes)
Dr. Sheila Haywood (Single appearance)
Sharmin Rosen (Single appearance) (flashback only)
Mrs. Walker (Single appearance) (flashback only)
Locations:

Items:

Vehicles:

Synopsis for "Chapter Two"
On the trail of Shiva Woosan, Bruce and Jason learn the mercenary was kidnapped moments before their arrival. Soon afterward, Batman and Robin shake down a number of Lebanese criminals and learn that Woosan was taken to the Pashar Pass in the Bekaa Valley.
In a famine relief camp just outside of Magdala, Ethiopia, the Joker blackmails Dr. Sheila Heywood for shipments of medical supplies. Meanwhile, Batman and Robin infiltrate a terrorist camp only to learn Shiva Woosan is none other than Lady Shiva. Lady Shiva battles Batman and is defeated. As Robin cuffs the renegade martial artist, Batman sabotages the terrorists' explosive cache. After trekking through the desert for a while, Batman interrogates Lady Shiva and learns she never had any children. The dynamic duo depart for Ethiopia.
Bruce and Jason arrive at the camp outside of Magdala and meet Dr. Sheila Heywood where mother and son are reunited. Soon, the Joker arrives and he takes Heywood to the central warehouse to steal the medical supplies. Jason follows on a stolen motorcycle. As supplies are unloaded, the Joker has boxes of his lethal laughing gas loaded in their place. Jason returns to the camp to enlist Bruce's aid and soon the Dark Knight chases the trucks carrying the gas in a mini-copter.
Meanwhile, Jason returns to the warehouse and reveals his identity as Robin. Entering the warehouse, Heywood turns Robin over to the Joker, who had never left. The Joker and his gang proceed to beat Robin so savagely, Heywood can no longer bear to watch.
After his mini-copter is shot down by soldiers, Batman is recognized by the truck drivers. He warns them of the deadly cargo they are carrying, telling them to unload the boxes and leave them to be dealt with by the army, and is allowed use of a truck to get back to the warehouse. Meanwhile, the Joker betrays Heywood and has her bound in the warehouse next to her injured son where he's placed a bomb. Unable to deactivate the bomb, Jason instead unties his mother. Attempting to escape, Heywood discovers that the door is locked and the bomb detonates...


Appearing in "Chapter Three"
Featured Characters:
Supporting Characters:
Villains:
Other Characters:
Locations:
Items:
Vehicles:
Synopsis for "Chapter Three"
Synopsis not yet written.


Appearing in "Chapter Four"
Featured Characters:
Supporting Characters:
Villains:
Other Characters:
Ralph Bundy (Final appearance)
Yassar (Single appearance)
Locations:
Items:
Vehicles:
Synopsis for "Chapter Four"
Synopsis not yet written.
Notes
This trade paperback collects the following issues of Batman:
This trade paperback collects the following issues of New Titans:
At the time of publication, this story was considered the canonical last appearance of Jason Todd. He re-emerged years later in Batman Annual #25 as the Red Hood. Via retcon, Jason's first canonical "post-death" appearance actually takes place during the twelve-part Hush running through issues of Batman in 2003. [1] Originally, the Jason Todd character from "Hush" was actually Johnny Williams, the new Clayface, but this was altered later. [2]
Trivia
This storyline is the final appearance of Barbara Gordon under her regular name. From this point forward, she begins operating under the name Oracle. [3]
Ruhollah Khomeini was an actual living person who functioned as the Ayatollah of Iran from 1979-1989.[4]
DC Comics, aware of Jason Todd's unpopularity with fans and perhaps inspired by references to a dead Jason in Frank Miller's futuristic Batman: The Dark Knight Returns, set up a 1-900 number one-dollar hotline giving callers the ability to vote for or against Jason's death. Over 10,000 votes were cast, a majority voted to kill Jason (5,343 to 5,271, an approximate 50.339% majority), and DC published "A Death in the Family" to massive media attention. [5][6]
Although Jim Aparo provides the cover illustration for this trade paperback, the covers to the original issues were all illustrated by Mike Mignola.
See Also
Recommended Reading
Links and References