Batman: Gotham Knights Vol 1 66
Talk

0
79,915pages on
this wiki

"Job Termination"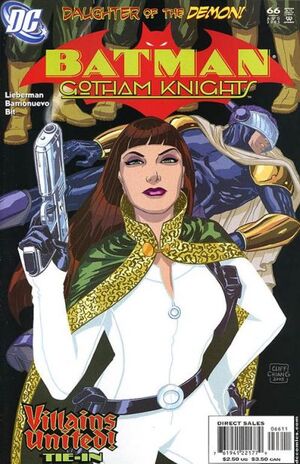 Previous Issue
Next Issue
Appearing in "Job Termination"
Featured Characters:
Supporting Characters:
Villains:
Other Characters:
Ma Hunkel (Cameo)
Jenna (Poison Ivy II) (Flashback only)
Locations:
Items:
Vehicles:
Synopsis for "Job Termination"
Hush throws Prometheus through a boarded-up window, effectively ending their partnership, and threatens to kill him if he sees him in Gotham again. Kobra cultists from the Secret Society of Super-Villains arrive and start shooting. Hush escapes as they capture Prometheus. Deathstroke appears and takes command, until Prometheus collapses. Then Talia al Ghul appears, and orders the capture of Hush, as Prometheus is clearly sick and they need a doctor for him. It does not take long to apprehend him, and he diagnoses a poison used by Poison Ivy, administered when Prometheus tried to save her. Hush says there's nothing he can do, but Talia insists; claiming Prometheus knows the location of something she needs. Hush begins the necessary medical procedures and Talia explains who they all are. Prometheus tells of how he got the "something" desired by the Society; a key to everything. When he was a boy, he was raised by his bank-robber parents. Like most children, he wanted to be like his parents. In the present, Prometheus' heart stops. While trying to restart it, Hush negotiates at gunpoint his freedom if he saves Prometheus. The story continues. After his parents' deaths, he travelled the world, learning to fight in the illegal street fights in Brazil, getting used to killing as a mercenary in Africa. Everywhere he went, he pushed himself in every way.Eventually, he stumbled upon the kingdom of Shamballa, a religion of evil. He spent three years proving himself, loving every minute of it, until he faced a final challenge, defeating the monster that guarded the Key. He slaughtered it, and claimed the power for his own, connecting with the Key and using it's power to travel anywhere instantly. In the present, Hush stabilises Prometheus, but cannot guarantee that he's well enough to travel. Hush then takes Talia hostage to ensure he gets away safely. Alone, the two fight, and Hush wins. But he leaves the antidote to Ivy's poison, and warns that he won't save Prometheus a third time, and that he doesn't fear the Society, because they'll have their hands full with the Key.


Notes
Trivia
See Also
Recommended Reading
Links and References