Batman Beyond Vol 3 1
Talk

0
79,932pages on
this wiki

"Hush Beyond, Part I: History Repeats"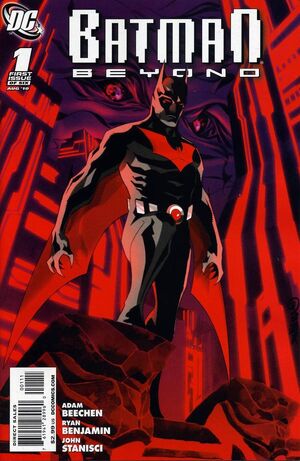 Previous Issue
Next Issue
—
Appearing in "Hush Beyond, Part I: History Repeats"
Featured Characters:
Supporting Characters:
Villains:
Other Characters:
Locations:
Items:
Vehicles:
Synopsis for "Hush Beyond, Part I: History Repeats"
Someone has escaped from Cadmus and murders three guards. Amanda Waller orders for everyone to find him before he makes Cadmus look bad. Meanwhile, Batman chases Spellbinder but Bruce tells him to end it fast. Spellbinder then jumps off the roof and takes Batman with him. The two battle and Spellbinder then escapes. Micron shows up and offers Batman another chance to join the Justice League but he refuses as he's busy in Gotham. Micron tells him the offer is on the table though. Batman then rides off in his batmobile. The man from Cadmus then shows up at a building and murders an old man. Batman arrives at the batcave to find Bruce working on new stuff for the utility belt and refuses to let Terry see. Terry tells Bruce about Micron's offer and Bruce tells him he made the right choice saying no. Terry then begins to head home but Bruce stops him as the old man who was murdered by the Cadmus man turned out to be Phillip Cobb a.k.a Signalman. Bruce then sends him off. Batman arrives at his apartment and listens to the police conversation through the microphones on his fingertips. Bruce quickly suspects Two-Face. Then, there's something going on at the St. James psych ward where the Mad Hatter is being held. Batman quickly activates his invisibility and heads over there. Batman arrives and quickly hears a scream. The man from Cadmus was about to murder a nurse. The man let her live and told her to hush. Batman then finds bloody bandages beside the nurse.


Notes
Trivia
Bruce mentions that he watches the Zorro movie once a year. Zorro was the movie that Bruce saw the night his parents were killed.
See Also
Recommended Reading
Links and References