Batman Beyond Vol 4 6
Talk

0
79,932pages on
this wiki

Industrial Revolution: Part Two of Three "Industrial Disease"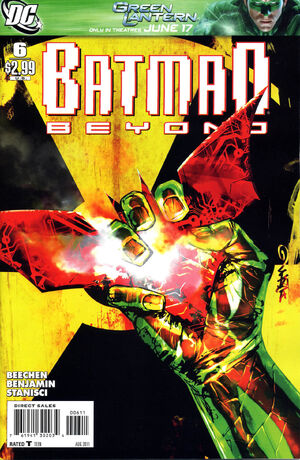 Previous Issue
Next Issue
Appearing in Industrial Revolution: Part Two of Three "Industrial Disease"
Featured Characters:
Supporting Characters:
Villains:
Other Characters:
Locations:
Items:
Vehicles:
Synopsis for Industrial Revolution: Part Two of Three "Industrial Disease"
The Gotham Fire Department quickly arrive on the scene of the explosion at Wayne-Powers. Batman and Paxton hop into an army vehicle and try to escape from the burning building. The fire surrounds the vehicle, forcing them to abandon it and hop onto a motorcycle. Batman suspects someone is out to kill Paxton. Batman drops Paxton off at the police station and heads to the batcave.
Meanwhile, Blight watches as his son and Batman escape. He then recounts the time where Blight sunk along with the ship after being defeated by Batman. He then recounts escaping and making his way to the surface and meeting his new assistant, Dr. French. Dr. French takes Blight away to make a few adjustments to his containment suit. Glen Godfrey arrives and reveals that he's in on Blight's plan to reclaim Wayne-Powers. Batman arrives at the batcave and Bruce reveals he can't find a single clue on who the mastermind is so he plans on taking Wayne-Powers off the market to bait the crook out.
The next day, Terry talks to Max about his break up with Dana. Max tells him that Dana just needs time as Dana's brother just got out, much to Terry's shock. Max tells him he could just tell Dana he's Batman but Terry's against it. Little do they know, that Undercloud is watching them. That night, at Dana's house, things between Doug and Dana are awkward so Doug leaves to go get groceries for the dinner he's preparing for Dana and Mrs. tan. Along the way, Doug encounters a gang of Jokerz.
Batman heads to the Gotham Stock Exchange so he can close or delay the the stock exchange but little does he know, Blight is there too. Batman turns invisible only to be attacked by Blight and pins him down.


Notes
Trivia
See Also
Recommended Reading
Links and References