Batman Confidential Vol 1 8
Talk

0
80,039pages on
this wiki

"Lovers & Madmen (Part II) - In Arms"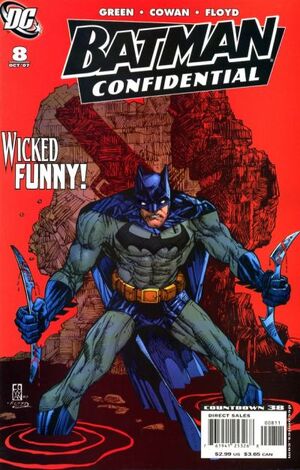 Previous Issue
Next Issue
Appearing in "Lovers & Madmen (Part II) - In Arms"
Featured Characters:
Supporting Characters:
Villains:
Other Characters:
Locations:
Items:
Vehicles:
Synopsis for "Lovers & Madmen (Part II) - In Arms"
Batman finds the body of a dead guard. A note is pinned to his chest, thanking Batman for "making his day". Batman grows increasingly more frustrated with this strange new foe that has come to Gotham. This new enemy has been cutting a bloody swathe across the city, and all of the work that Batman has done all these months is slowly unraveling. Batman begins hitting all of the underworld hot spots looking for information. He pressures Maletesta's gang into yielding any information that they have. Maletesta tells him that he met "Jack" when he was a shooter for the Berlanti crime family. Maletesta has no love for Jack however, and wants to see him eliminated just as much as Batman. He tells Batman that if he needs help taking Jack out of the picture, he offers to finish the job for him. Batman returns home to the Batcave where Alfred has been laboring to put together an elaborate computer network inside the Batcave. As the computer system is not yet ready, he advises Bruce to pay a visit to Lorna Shore. Bruce concedes and visits Lorna's apartment. After a dinner date, he brings her back to Wayne Manor and she spends the night with him. Days later, Bruce returns to the Batcave and finds that Alfred has finished hooking up the new computer. After feeding information into the system, they extrapolate what Jack's most likely target will be - the Gotham Museum of Art.


Notes
Trivia
Related Articles
See Also
Recommended Reading
Links and References
Warning: Default sort key "Batman Confidential 08" overrides earlier default sort key "Batman Confidential Vol 1 0008".