Batman Vol 1 591
Talk

0
80,037pages on
this wiki

"Shot Through the Heart (Part I of II)"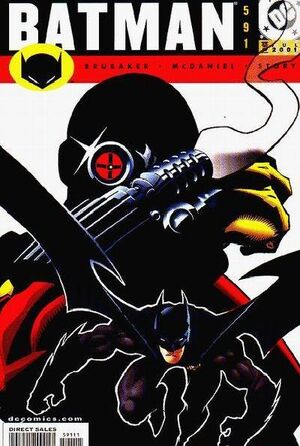 Previous Issue
Next Issue
The rain falls on murderers and madmen, the same as it does on innocent children... and it can't stop a bullet.

-- Batman
Appearing in "Shot Through the Heart (Part I of II)"
Featured Characters:
Supporting Characters:
Villains:
Other Characters:
Locations:
Du Lac Resorts (Flashback only)
Items:
Vehicles:
Synopsis for "Shot Through the Heart (Part I of II)"
The assassin Deadshot stakes out a sky-rise building occupied by prominent Gothamite, Lew Moxon. He makes plans to conduct a hit on the sky-rise later that evening.
Back at Wayne Manor, Sasha reminds Bruce of tonight's reception party welcoming Lew back to Gotham. Bruce had totally forgotten about the party and goes down to the Batcave to research Moxon's history. Lew Moxon used to be a powerful underworld figure in Gotham in the years preceding Batman's first appearance. But when he began to dabble in politics, his past came back to haunt him and Lew was forced to flee the country. But now he's back, and looking to plant a stake in his Gotham interests once again.
That night, all of Gotham's elite gather at the Lew Moxon reception. Bruce re-unites with Mallory Moxon, and suddenly he remembers meeting Lew once before. When Bruce was around eight-years-old, he met young Mallory at the Du Lac Resort while vacationing. The two shared their first kiss together at that time.
Not only is Bruce surprised to see Mallory again, he is equally surprised to find that Zeiss is Lew Moxon's bodyguard. He secretly communes with Oracle and has her gather as much information on Zeiss as she can.
Suddenly, Deadshot begins firing shots from a sky-walk across the street. He isn't trying to hit anyone. He is merely testing Zeiss' capabilities. Bruce changes to Batman and leaps out the window. But before he lands, Deadshot shoots the Bat-Line in half.


Notes
This issue include a flashback of Bruce Wayne and Mallory Moxon at age eight.
Trivia
See Also
Recommended Reading
Links and References