History
Sonar was a criminal who joined Gorilla Grodd's Secret Society. He helped Roulette control various female members of the Justice League via a control signal he transmitted through their communicators during her operation of Meta-Brawl Glamour Slam.

Trivia
Related
Links
Footnotes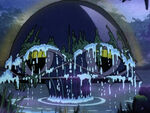 Legion of Doom member
This character is or was a member of the Legion of Doom, a team of supervillains culled together for the purpose of conquering the world and defeating the Super Friends, in any of its various incarnations. This template will categorize articles that include it into the "Legion of Doom members" category.