Looking for a different version of this character?
As a result of the 2011 initiative, the New 52, the entire line of DC characters was relaunched, incorporating properties belonging to the company's imprints: Wildstorm, Milestone, and Vertigo. As such, elements of this character's history have been altered in some way from the previous incarnation's. For a complete list of all versions of this character, see our disambig.
History
Black Manta is an enemy to Aquaman and The Others.
As a young adult, he lived with his father on a houseboat, earning some reputation as a diver and a treasure hunter. Hearing about the interest in the "Amnesty Bay Merman", he aggressively chased leads, hoping to catch the cryptid and win a fortune. One night, his investigation led to him accidentally kill Tom Curry, a local lighthouse owner. Soon afterwards, the Merman broke into his houseboat and murdered the diver's father, on the assumption that they were the killer. Out of vengeance, the diver crafted weapons and armor, and went hunting. When the Merman became a publicly-known hero as Aquaman, he became Black Manta.
The Others
Aquaman created a team known as the Others (forged of six Atlantean relics from the Dead King's tomb) to catch Black Manta. The team failed at their first attempt to apprehend him, and Black Manta escaped.
After a hunter-versus-hunter chase between Black Manta and Aquaman's team of Others, Black Manta discovered that there was a secret hidden relic, like the ones the Others possessed, still left in the Dead King's tomb. Kidnapping Stephen Shin, Manta found the last relic before Aquaman and the Others could reach him. [1] In his escape, Manta killed Vostok-X, causing Aquaman to swear revenge. [2]
Black Manta delivered the relic scepter to a mysterious Atlantean but was ambushed by the Others in the process. Though the buyer managed to escape, Black Manta was defeated, and Aquaman, despite wanting to avenge his fallen comrade Vostok-X, spared Manta's life, not wanting to give him the satisfaction of a respectable death. [3]
Manta was transported to Belle Reve Prison, where he was offered to join Amanda Waller's Suicide Squad but refused, saying he would only die by Aquaman's hand.[4].
Forever Evil
When the Crime Syndicate came to Earth thru Pandora's Box, all prison systems was opened allowing the criminals to escape.[5] Black Manta went to the grave of his father. But when Ultraman moved the moon to block the sun, it cause a tidal wave that swept open his father's grave. This angered Black Manta who now goes to the Crime Syndicate looking for revenge. [6] After retrieving Black Adam's body from the ocean, Black Manta meets up with Lex Luthor, the Kryptonian clone that Lex Luthor created, and Captain Cold where he tells them what Ultraman's actions did to his father's grave. Lex Luthor realizes that with the help of his Kyptonian clone, Black Adam, Black Manta, and Captain Cold, he may be able to stop the Crime Syndicate.[7]


Expand
This section of the article does not provide a complete profile of the subject. You can help out by providing additional information, expanding on the subject matter in order to bring this article to a higher standard of quality.
This template will categorize articles that include it into Category:Incomplete Articles.
Suicide Squad
Incomplete
There's something missing here. This section of the article is incomplete, and contains information, but requires more before it can be considered complete. You can help the DC Database Project by editing this page, providing additional information to bring this article to a higher standard of quality.
Powers and Abilities
Abilities
Hand-to-Hand Combat (Advanced): Black Manta was trained to fight by his father from an early age. He's honed his skill over the years fighting Aquaman.
Weaponry: Black Manta has a large arsenal of both underwater and above water weaponry. He's even used Aquaman's trident with proficiency, choosing it over his own helm. He could cut a man's throat with a coin.
Swimming: Black Manta is highly skilled at swimming. Deathstroke stated that he "cuts through water like a torpedo".[8]
Paraphernalia
Weapons
Notes
Trivia
Black Manta has three long scars across his face.
Related
Links
Footnotes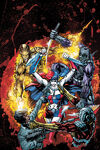 Suicide Squad member
This character is or was a member of the Suicide Squad, a team of imprisoned super-villains who perform high-risk missions for the U.S. Government in exchange for commuted sentences, in any of its various incarnations. This template will categorize articles that include it into the "Suicide Squad members" category.
Ad blocker interference detected!
Wikia is a free-to-use site that makes money from advertising. We have a modified experience for viewers using ad blockers

Wikia is not accessible if you've made further modifications. Remove the custom ad blocker rule(s) and the page will load as expected.