Brother Eye
Talk

0
79,973pages on
this wiki

Aliases
Brother Eye; Brother I
Origin
Owners
Do you understand? They broke the promise. And if they couldn't be trusted, then by extension, none of us could. It didn't matter who was responsible for what had happened. What mattered was that it had happened to begin with. And I was damned if I was going to let it ever happen again.

-- Batman
History
In the continuity of futuristic Pre-Crisis Earth, Brother Eye's origin was completely different from that of the modern canon. This version of Brother Eye was the brainchild of Professor Myron Forest, a scientist working for the Global Peace Agency. The GPA selected Forest to head up a top-secret operation known as Project: O.M.A.C. Forest's scientific expertise enabled him to transform weakling military officer, Buddy Blank, into the one-man army corps known as O.M.A.C.
To aid O.M.A.C. in his missions, Professor Forest created the Brother Eye computer system, which he housed within an orbiting satellite. The computer remotely interfaced with O.M.A.C.'s body granting him various super-human capabilities. Brother Eye could download information directly into O.M.A.C.'s brain and provide a wide array of shielding effects on his form depending upon the specific situation. It could make O.M.A.C. impervious to gunfire and extreme temperatures, and could even generate a protective cocoon around Buddy's body. It could also alter O.M.A.C.'s density allowing him to effectively operate within environments with an unstable gravity.
On one adventure, O.M.A.C. faced up against a villain known as Doctor Skuba. Skuba managed to reverse Professor Forest's work and transformed O.M.A.C. back into the human, Buddy Blank. Brother Eye labored to reverse the condition, but with great cost to itself. Doctor Skuba repolarized Brother Eye's computer systems, rendering extensive damage throughout the satellite. Brother Eye eventually recovered, but was never again able to perform its duties to the same level of standards as before.
Several years ago, the villain known as Doctor Light broke into the satellite headquarters of the Justice League of America. The only person stationed on the satellite at the time was Sue Dibny – wife of Ralph Dibny, the Elongated Man. Doctor Light attacked and brutally violated her – an act that would soon yield disastrous consequences not only for himself, but for the League as well.
The Justice League returned and were shocked to discover Light's crime. Unwilling to let such an act to go unpunished, several members (including Elongated Man, Hawkman, Green Arrow and Zatanna) decided upon an unorthodox means of rehabilitation. While the others held Doctor Light down, Zatanna used her magic to permanently alter Light's personality. Instead of existing as a psychotic rapist, he would now act as a slow-witted, clumsy super-villain incapable of overcoming even the most meager of threats.
As Zatanna completed her spell, Batman entered the satellite and witnessed what had taken place. The conspirators knew that they had to keep this a secret from the senior members, so Zatanna wiped Batman's mind clean of the memory of the event.
Years passed, and Batman's memory slowly returned to him. He knew now that he could no longer trust the Justice League and embarked upon a plan of action to keep an eye on them. Using money through various Wayne Enterprises subsidiaries, Batman created Brother Eye – a semi-autonomous artificial intelligence surveillance system. Equipping it with an anti-detection stealth system, he launched the satellite into geosynchronous orbit. Through the use of Brother Eye, Batman collected a massive database of information concerning every known metahuman on Earth.
A few years ago, the international eco-terrorist known as Ra's al Ghul succeeded in hacking into Batman's database system. He used the information supplied in his files to ascertain the weaknesses of the JLA members and thereby exploit them. The League succeeded in foiling Ra's' efforts, but their trust in Batman was forever shattered. The standing roster of the JLA at that time were not members of the original Doctor Light conspiracy, and had no prior knowledge of what had taken place. Batman did not openly reveal his knowledge of the conspiracy to his teammates at that time.
Infinite Crisis
Maxwell Lord, the Black King of the intelligence cabal known as Checkmate, learned of Brother Eye's existence and found a way to hack into it. He rerouted the satellite's systems, so that they would respond only to his commands. Max Lord's initiative was to systematically weed out all metahumans from the planet, by way of sleeper agents known as O.M.A.C.s. Through the use of Brother Eye, Max was able to coordinate strategic attack patterns against super-heroes all across the globe.
Lords' reign came to an end, when Wonder Woman attacked him directly, snapping his neck. Following Lord's death, Brother Eye initiated an automatic program known as the King is Dead protocol, at which point it commanded all remaining O.M.A.C.s to scour the globe annihilating every superhuman it could find. Brother Eye broadcast video footage of Wonder Woman killing Maxwell Lord across the planet, turning public opinion against her. After this, Brother Eye initiated the final protocol "Truth and Justice", by having all the remaining OMACS invade and attack her homeland Themyscira to wipe out all of the Amazons.
It was then revealed that Brother Eye was wrested away from Batman by Alexander Luthor, Jr. and became an important part of Alex Luthor's plan to bring back the Multiverse. Luthor granted the satellite sentience, allowing it to evolve into a brain capable of directing the energies of the dimensional "tuning fork". Brother Eye became the only artificial intelligence capable to calculating the correct coordinates of where the tower should concentrate its energies.
It becomes the target of a superhero assault led by Batman himself, using the new Blue Beetle (Jaime Reyes) to negate its vibrational frequency and bring it out of hiding. Batman attempted to shut down the central computer while Brother Eye attempted to distract him with footage of the battle between Nightwing and Superboy-Prime. Ultimately the satellite was finally knocked out of orbit by Mister Terrific, shutting down the OMACs and releasing the hosts in Themsyrica. Brother Eye made attempts to bring Batman down with him, asking if he can ever truly trust the heroes again. Batman replied that he'll take his chances, and accepted Hal Jordan's help in getting to safety.
Countdown to Final Crisis
A portion of Brother Eye was later retrieved and rebuilt by Buddy Blank, a former scientist from Wayne Industries. This portion was located in NORAD's storage hanger and later meets the time-traveling Karate Kid who was seeking a cure for the Morticoccus virus, a 31st-century illness evolved from the OMAC-virus. Announcing that "the Great Disaster has come to me," the Eye directs Karate Kid to Blüdhaven. Soon after, it reactivates its offensive protocols and assimilates the hangar it is being held in, turning the people within the hangar into new OMAC cyborgs, and itself travels to the ruins of Blüdhaven and assimilates its infrastructure and the people within it, using the Atomic Knights and Firestorm as power sources.[1][2][3] Later, it activates a Boom Tube and travels to Apokolips, where it assimilates the entire planet and attempts to obtain the Morticoccus virus from Karate Kid, who has also been led there.[4] However, it is forced to flee Apokolips when attacked by the Pied Piper using the Anti-Life Equation.
After a length of time, Brother Eye returns to Earth's orbit and transforms Buddy Blank into a modified OMAC that heavily resembled to the Earth-AD version of Buddy Blank (aka One-Man Army Corps). Buddy uses his newly found power to save himself and his grandson from starvation in the Command-D bunker beneath Blüdhaven by breaking out of their bunker.[5] After Blank (having returning back to normal) and his grandson walked across the barren city, it is implied from Buddy that Brother Eye will contact him again for a future need.
Final Crisis
During the events of Final Crisis, Mister Terrific and the Checkmate organization were working to mount a resistance against Darkseid but seemingly don't have the means to do it. Sitting in despair in a Checkmate stronghold, Snapper Carr through his hopeless rantings gives Mister Terrific an ingenious idea. Using Sasha Bordeaux to make contact with Brother Eye, Terrific convinces the A.I. to help them, telling it that it will surely be destroyed if Darkseid indeed captures the world.
Realizing this, Brother Eye accepts Terrific's terms, and reveals that there are still millions of people infected with OMAC nanotech. These people, now mindless drones of Darkseid, are overwritten by Brother Eye and become OMAC soldiers under the command of Terrific. This gives Checkmate and him the means to forcefully resist Darkseid.[6]
At the peak of the Final Crisis, Brother Eye (or "Lord Eye" as it called itself) prepared to leave the doomed Earth with his OMACs and the people of Command-D, and start a new society on Earth-51. To this end, he asked Renee Montoya to serve as the head of a to-be-founded Global Peacekeeping Agency.[7]
The New 52


The DC Universe heavily changed its continuity into the DCnU following the events of Flashpoint in 2011. This was part of an effort to make storylines more accessible to newer readers, beginning with the New 52. This new timeline combines elements from the DCU, Vertigo Universe and Wildstorm Universe while drastically changing the origins and histories of characters.

In this new version of history, Brother Eye is a rogue sentient satellite developed by Project Cadmus. Batman is still shown to have been involved in his creation, although to what extent is unclear. Rather than work for anyone's agenda, he manipulates people independently towards his own means.
Omactivate!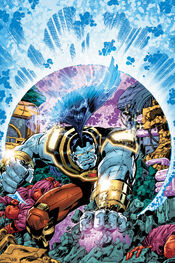 Brother Eye weaponizes a Cambodian-American named Kevin Kho to fight Cadmus and steal the technology he needs.[8] Eye claims to be connected to every machine and every form of communication known to man. Having been imprisoned by Checkmate's leader Maxwell Lord, he's vowed to never let this happen again and is putting together a personal army. This includes having OMAC recruit fellow Cadmus experiment Amazing Man.[9] Checkmate agents are sent to hunt OMAC down led by Sarge Steel, and Eye's technology is nearly stolen by the Psi-Fi Man.[10] Kho loses contact with Brother Eye when he's chased into a subway by Mokkari, but he regains his connection to the power before they can kill him.[11] S.H.A.D.E.'s top agent Frankenstein is sent to hunt OMAC down. Their leader Father Time has a battle of wits with Brother Eye, and both entities hack into each other's information.[12][13] This leads to their subservient android Humanids gaining sentience and starting a rebellion.[14] He becomes concerned when Kevin Kho starts investigating the Mother Box technology that went into his creation, and they are attacked by a member of the Female Furies named Sweet Leilani.[15] Eye sends OMAC to investigate Simyan's Evil Factory in Command B, and they destroy it as an abomination for turning animals into people.[16] In their last confrontation, Maxwell Lord outsmarts Brother Eye and destroys him. His final act is to give Kevin his personality back, trapping him in the OMAC body forever.[17]
Breakdown
Eye is later revealed to have survived by hiding himself in OMAC's programming. He takes control of Kevin Kho and uses him to destroy the Justice League International. Booster Gold takes him down by having Skeets hack into his programming, but not until after the entire team is devastated. Eye finally leaves Kho's body, allowing him to become human again. He also visits Batman to warn him that he's under the control of a new programmer, and Batman will "join him or die."[18]
Other versions
In the reverse gender world of Earth-11 a version of Brother Eye appeared as a normal orbital OMAC satellite created by Lexcorp as the "future of communication". It also speaks in leetspeak.[19]
In this reality, Brother Eye is restricted to a satellite used by that reality's Batman. During Monarch's conquest of Earth-51, the Brother Eye satellite was soon destroyed by Super-Woman of the Crime Society when Batman tries to order it to activate it's cloaking ability from being discovered.[20]
When Monitor Nix Uotan recreated the Earth-51 reality, Brother Eye was already deactivated as a inactive satellite. Following after the infection of Earth with the Morticoccus virus outbreak Brother Eye was later reactivated by Earth-51's Buddy Blank to monitor the happenings on Earth.[21]


Notes
Brother Eye was capable of intrusive acts of espionage and worked in tandem with the OMAC cyborgs.


Trivia
See Also
Links and References