History
History of character is unknown.

Powers and Abilities
Powers
Molecular Reconstruction: Catalyst can control the molecules of organic materials and even counter Geomancy based characters from moving by manipulating their molecular make-up.[1]
Related
Links
Discover and Discuss
Footnotes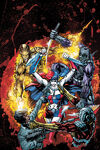 Suicide Squad member
This character is or was a member of the Suicide Squad, a team of imprisoned super-villains who perform high-risk missions for the U.S. Government in exchange for commuted sentences, in any of its various incarnations. This template will categorize articles that include it into the "Suicide Squad members" category.