Chronos Vol 1 1000000
Talk

0
80,206pages on
this wiki

Previous Issue
Next Issue
We're both players in a struggle that's been going on since the beginning of time. The only difference is, I'm trying to change the rules.

-- Chronos
Appearing in "Time on my Hands"
Featured Characters:
Supporting Characters:
Villains:
Other Characters:
Locations:
Items:
Vehicles:
Synopsis for "Time on my Hands"
Synopsis not yet written.
Notes
Trivia
See Also
Recommended Reading
Links and References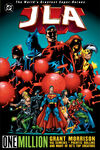 DC One Million Crossover

This comic issue is a part of the "DC One Million" event that crossed over into every DC Title in 1998. It involved present day interaction with versions of the characters seen in contemporary comic books with their counterparts in the 853rd Century.
This template will categorize articles that include it into the "DC One Million" category.
Crossovers
Action Comics #1,000,000
•
Shadow of the Bat #1,000,000
•
Nightwing #1,000,000
•
Green Lantern #1,000,000
•
Power of Shazam #1,000,000
•
Young Justice #1,000,000
•
Batman #1,000,000
•
Man of Steel #1,000,000
•
Starman #1,000,000
•
Impulse #1,000,000
•
Green Arrow #1,000,000
•
Legionnaires #1,000,000
•
Azrael #1,000,000
•
Superman #1,000,000
•
Superboy #1,000,000
•
Detective Comics #1,000,000
•
JLA #1,000,000
•
Aquaman #1,000,000
•
Wonder Woman #1,000,000
•
Chase #1,000,000
•
Creeper #1,000,000
•
Martian Manhunter #1,000,000
•
Adventures of Superman #1,000,000
•
Resurrection Man #1,000,000
•
Catwoman #1,000,000
•
Robin #1,000,000
•
Flash #1,000,000
•
Supergirl #1,000,000
•
Man of Tomorrow #1,000,000
•
Chronos #1,000,000
•
Young Heroes in Love #1,000,000
•
Lobo #1,000,000
•
Hitman #1,000,000
•
Legion of Super-Heroes #1,000,000