Countdown Vol 1 34
Talk

0
79,940pages on
this wiki

"Searching for Answers"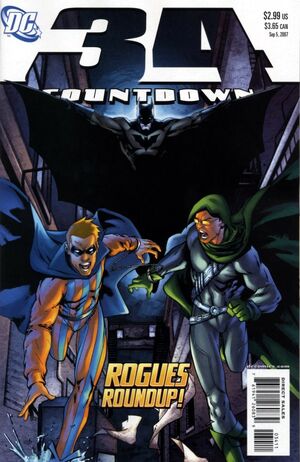 "The Origin of Lex Luthor"
Previous Issue
Next Issue
Appearing in "Searching for Answers"
Featured Characters:
Supporting Characters:
Villains:
Other Characters:
Locations:
Items:
Vehicles:
Synopsis for "Searching for Answers"
Poison Ivy and Deathstroke leave the Trickster and Pied Piper suspended upside down from a building as a message for Batman. Batman finds them and lowers them to the ground where they are scooped up by the Flash. The Flash races off, burning with a need to avenge his deceased cousin Bart Allen.
In Metropolis, Jimmy Olsen stops at the Steelworks to have John Henry Irons run some tests on him. John analyzes his genetic structure to see if there are any similarities to the experiments perpetuated by Lex Luthor's Everyman Project.
The Flash brings Piper and Trickster to the sight of Bart Allen's gravestone in Keystone City. The former Rogues plead for their life, and desperately try to tell him that they played no part in Bart's demise.
On Sorcerer's World, Queen Belthera captures the Atom, Bob the Monitor, Donna Troy and Jason Todd. She contains the Atom inside of a small sphere and uses her magic to take control of Bob's mind. Belthera wants to acquire Bob's ability to traverse the alternate realities of the Multiverse. Donna frees Jason Todd from his mystic cage and the two begin fighting Belthera'a minions. Belthera commands Bob to open a portal and she grabs Donna, dragging her with her. Jason reaches out for her, but he is too late.
In Metropolis, Holly Robinson participates in gladiatorial combat at the Athenian Women's Shelter. The combat is a purification rite to judge who is worthy for advanced training on Paradise Island. Holly squares off against a rival warrior wearing a golden helmet. The combat ends in a stalemate, and the disguised fighter removes her helmet revealing herself to be Harleen Quinzel. Athena is pleased with the performances of both her fighters.
At Chung Ling Soo Square in China, Mary Marvel browses through a mystics' bazaar - a place populated by strange beings and creatures. She comes upon Klarion the Witchboy and his pet cat Teekl. Mary tells Klarion that she is "in the market for some new tricks".
In Nebraska, the Karate Kid and Una consult with Doctor Elias Orr. Orr tells them that the virus infecting the Karate Kid is similar to nanotechnology that originated with Brainiac 13 and was later used to develop the O.M.A.C. Project. The nanotech is directly linked to a satellite system called Brother Eye. Elias gives them the contact information for a man who has a direct link to Brother Eye - Buddy Blank. The two young heroes thank him for his time and leave. When their gone, Elias reports back to his secret overseer - DeSaad. DeSaad tells him the master will be pleased with his service.
Back at the Steelworks, Jimmy's body begins transforming and he produces a holographic image of the Source Wall from his brain. John Henry smashes the machine with his kinetic hammer before Jimmy's condition worsens and he returns back to normal.
In Keystone City, the Flash brutally interrogates the Trickster and Pied Piper. They tell him that Deathstroke plans on massing an attack at the wedding of Green Arrow and Black Canary. They also reveal that Deathstroke planted microscopic detonators into their brains. The machines activate and both men fall over shrieking in pain. Wally stands over them and says, "You killed Bart. You deserve to die."


Appearing in "The Origin of Lex Luthor"
Featured Characters:
Supporting Characters:
Villains:
Other Characters:
Locations:
Items:
Vehicles:
Synopsis for "The Origin of Lex Luthor"
Although born the son of a Metropolitan mover and shaker, Lex Luthor spent a great deal of his youth growing up in Smallville. There, he became acquaintances with Clark Kent, Pete Ross and Lana Lang, but never developed any true friendships. As an adult, he took control of his father's company LexCorp and eventually became one of the most powerful men on the planet. He even served a term and a half as President of the United States until scandal forced him to resign. Throughout his illustrious career both as a corporate mogul and a criminal genius, Luthor always found himself suffering defeat at the hands of one man -- Superman.


Notes
This issue shipped on September 5th, 2007.
This issue includes "DC Nation #77" editorial by Dan DiDio.
The Everyman Project was an experimental program developed by Lex Luthor to give super-powers to whoever wanted them. The Everyman Project was one of the major storylines chronicled in the 52 limited series.
Queen Belthera makes reference to the Great Disaster in this issue. In Pre-Crisis continuity, the Great Disaster is the event that eventually created the Earth-AD reality of OMAC and Kamandi.
The "master" that DeSaad speaks of is Darkseid.
Trivia
The origin of Lex Luthor presented here is congruent to the revised history presented in Superman: Birthright. His updated origin reflects the character of Lex Luthor as seen on the television series Smallville.
Related Articles
See Also
Recommended Reading
Links and References