Deathstroke Vol 2 12
Talk

0
79,972pages on
this wiki

"The Omega Agenda"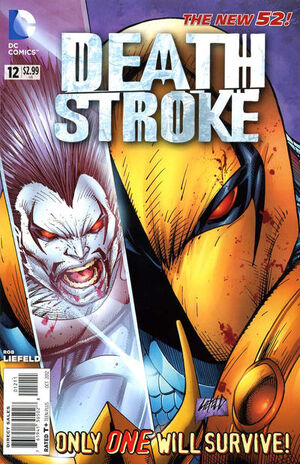 Previous Issue
Next Issue
Nice hog you got here, Czarny! Let's take it out and really open her up!

-- Deathstroke
Appearing in "The Omega Agenda"
Featured Characters:
Supporting Characters:
Villains:
Other Characters:
Locations:
Items:
Vehicles:
Synopsis for "The Omega Agenda"
Deathstroke is about to be killed by Lobo, the last Czarnian. This was a challenge for Deathstroke and was more than he bargained for. When Lobo snaps Deathstroke's neck, he will blow Earth up. Deathstroke gets a chance to escape and quickly flees.
Tigorr and Primus start to fight Lobo. (Tigorr first and then Primus.)While Primus is fighting Lobo, Primus states that he deactivated the bomb that was going to blow up Earth because he needs the Starpoint intact to leave Earth. Primus then congratulates Lobo for playing his part perfectly. Primus, using his mind powers, freed Lobo from his bonds in the facility, letting Lobo escape so he could take the Omegas right to the Starpoint, where he held the Omega's parents in captivity. Primus then plans to kill Lobo. Zealot shows up, hearing the conversation. She is furious at Primus for risking Earth by freeing Lobo, just to get revenge. Suddenly, Deathstroke shows up on one of Lobo's vehicles, the SpazFrag666. He stabs Lobo with a huge sharp end on the front of the SpazFrag666 and he and Lobo start to fly up into the sky while fighting for the death.
Deathstroke tries giving Lobo "one last kiss to remember him by" but Lobo "kisses" back. Deathstroke starts to fall off the SpazFrag666, but not before placing a detonator in the fuselage. In seconds, the SpazFrag666 and Lobo are exploded in a giant explosion and Lobo is dead. Deathstroke happily reaches the ground with a jetpack.
Zealot and Deathstroke are talking to Primus about what he did. Primus is trying to back himself up by saying Director Maxiim is actually not like what they think he is. Zealot says he raised the Omegas like his own children. Primus says Maxim is making them believe he is a man of honor. Primus says the Omegas are experiments and nothing more. Deathstroke, silent for a while says that Primus risked Earth by freeing Lobo. He needs to take responsibility for his actions.
Later, Maxim's company arrives and is clearing evidence of what has happened. Maxim congratulates Slade but Wilson punches him, stating he does not like him. Deathstroke starts yelling at Maxim that Maxim and his company are dangerous. Maxim is on Slade's permanent radar. Wilson tells Maxim that his abuse of the Omegas will end and that Zealot will be his eyes and ears. If Maxim tries harming Zealot at all, Slade will kill him. Deathstroke then kisses Zealot, saying she is something special and saying she is truly admirable. He wants to see her more. Deathstroke leaves, needing a break from Maxim.
Meanwhile in the subterranean depths off a remote company storage facility, Maxim has some "cargo" transferred. Maxim requests that all records of project Sheba be destroyed. There can be no trace of its existence.


Notes
Trivia
See Also
Recommended Reading
Links and References