Detective Comics Vol 1 843
Talk

0
80,031pages on
this wiki

"Opening Night!"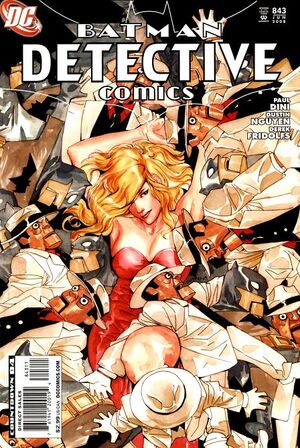 Previous Issue
Next Issue
Appearing in "Opening Night!"
Featured Characters:
Supporting Characters:
Villains:
Other Characters:
Johnny Sabatino
Vicky Djonovic
Locations:
Items:
Synopsis for "Opening Night!"
When an act of sabotage causes an explosion at a Volcano-themed nightclub opening up right down the street from the Iceberg Lounge, naturally The Penguin is the first person the Batman investigates. The Penguin is insulted, and insists that he need never fear anything from a "cheap copycat" like the club's owner, "Johnny Sabatino." He does, however, point Batman in the direction of the entertainment Sabatino has lined up for his opening night, a magic performance by the famous Zatanna Zatara.
Naturally, by the next night, Bruce Wayne has been lined up as one of Zatanna's volunteers, although they are unable to spot any clear suspects in the audience during the performance. After the show, one woman asks them if they're an "item," and although Bruce replies that they are not, while they sit at the bar and have drinks they begin to talk. Zatanna reveals feelings for Bruce she has developed since the night she was shot by the Joker and he sat by her bedside all night. Bruce responds cryptically, but does seem to share some feelings with Zatanna, and when shots are fired in the distance, his first move is to go to protect her.
After a night of being rebuffed by Zatanna, Sabatino had received a seductive call from her right after the show saying she was alone in his office waiting for him. When he entered, he found it had been The Ventriloquist imitating Zatanna's voice. Although Zatanna and Bruce rushed in, and Zatanna was able to subdue Scarface's thugs, the Ventriloquist was a quicker trigger than Zatanna was a talker, and Zatanna was forced to halt. The Ventriloquist ended up setting fire to the establishment and escaping in her limo with both Sabatino and Bruce (unable to act in his civilian identity) as hostages; although Zatanna was quickly able to put out the flames and give chase. In the car, the Ventriloquist realized she used to know Bruce, and her name is revealed as "Peyton Riley." She expresses regret for the violent person she's become, but then has Scarface mistakenly believe Bruce was hitting on her, and Scarface begins to shoot at Bruce.


Notes
Collected in Batman: Private Casebook.
Trivia
When pleading with Scarface, Sabatino insists that he always used to do right by him during "the old days" (meaning the time Arnold Wesker was The Ventriloquist). Scarface insists that what worked in the old days won't cut it anymore, indicating that Peyton Riley doesn't really acknowledge Scarface's career before her as anything other than inconsequential.
See Also
Recommended Reading
Links and References