Personal History
Personal History of Dick Sprang is unknown.

Professional History
Best known as a Batman penciler during the 1950s.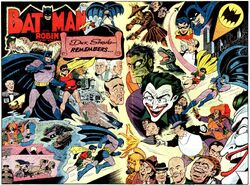 Notes
Sprang was married to Laura A. Sprang, who lettered his work under the pen name Pat Gordon.

Trivia
See Also
Work History
Official Website
Links and References
Ad blocker interference detected!
Wikia is a free-to-use site that makes money from advertising. We have a modified experience for viewers using ad blockers

Wikia is not accessible if you've made further modifications. Remove the custom ad blocker rule(s) and the page will load as expected.