Looking for a different version of this character?
As a result of the 2011 initiative, the New 52, the entire line of DC characters was relaunched, incorporating properties belonging to the company's imprints: Wildstorm, Milestone, and Vertigo. As such, elements of this character's history have been altered in some way from the previous incarnation's. For a complete list of all versions of this character, see our disambiguation page.
History
General Dru-Zod is a former Kryptonian military general and an enemy to Superman. Exiled to the Phantom Zone by his people for treason, he survived the destruction of Krypton and swore revenge against the son of Jor-El.
Origin
Dru-Zod was the son of Kyptonian scientists. One day, his family took on a scientific expedition to Krypton's wilderness where they were attacked by dangerous animals. After his mother was killed, Zod's father urged his son to escape. He does so, killing his father in the process to distract the creatures and give himself time to flee. For over a year, Zod managed to survive on his own until being found and rescued by Jor-El and Zor-El.
By adulthood, Zod became a distinguished soldier in the Kryptonian military and became concerned with Krypton's violent neighboring alien species, the Char. Although the Char had remained pacified for the last twenty-seven years, Zod was frustrated by his fellow Kryptonians' lax attitude towards them. In response, he forged a group of like-minded followers, such as his lieutenants Faora and Non, and engineered a false flag operation, creating and unleashing a Char-like creature on Krypton's populace to justify a war against the Char. However, Jor-El discovered Zod's deception and turned him over to the authorities. The Kryptonian Science Council found Zod guilty of treason and sentenced him and his followers to be exiled to the Phantom Zone.[1]
But being thrown in the Phantom Zone would not mean the end of Zod's villainy. During their time within the Zone, Zod and Faora became acquainted with the Warworld, a humongous alien war machine and planned to use its endless armies to conquer the outside worlds. Their plan also involved the Kryptonian monster known as Doomsday, also a prisoner within the Zone. Zod and Faora released the beast from his captivity and threw him across the boundaries of the Phantom Zone, weakening them and allowing for their eventual escape.[2]
Arrival at Earth
Zod's plan worked, and Doomsday's actions allowed Zod's escape from the Phantom Zone. Zod traveled to Earth, landing in the Sahara Desert. There, Zod's Kryptonian powers began to manifest for the first time, brutally slaughtering a group of travelers.[3] Zod was soon attacked by the Justice League of America until Superman and Wonder Woman arrived, the latter restraining him with her magic lasso. Zod recognized Superman as Kal-El, the son of Jor-El. Superman decided to keep Zod in the Fortress of Solitude's menagerie. While there, he reveals to Superman that another Kryptonian, Faora, also traveled to Earth with him, who vows to track her down.[4] But Zod had lied; much like himself, Faora was also trapped within the Phantom Zone. Zod tricks Superman into giving him access to his Phantom Zone Projector and frees himself from the shipping container Superman had placed him in, alongside all the other creatures in the Fortress' menagerie. With Superman busy fighting the alien animals, Zod uses the projector to release Faora from the zone.[5]
Grabbing her ally, Zod leaves the fortress and flies to a forest. Initially, exposure to Earth's atmosphere had caused Faora to become aggressive and incoherent, but as soon as her obtained her powers, her sanity returned. Suddenly, Superman catches up to the two criminals and engages in combat. Knowing their opponent cares for the humans, Zod and Faora initiate a forest fire that puts a nearby town in danger. Superman saves the village but leaves himself defenseless, until Wonder Woman arrives, evening the odds. Seeing Wonder Woman is willing to kill Faora to protect Superman, the General threatens Superman's life unless Wonder Woman lets him and Faora leave. Wonder Woman is forced to comply.[6]
With Superman and Wonder Woman in retreat, Zod and Faora construct a Phantom Zone portal in the South Pacific, using stolen human technology. In all of a sudden, Superman and Woman return, wearing magic armor and seeking a rematch. Zod reveals his plan was that Doomsday would break the barrier between normal space and the Phantom Zone, facilitating an invasion from the Warworld. Although the heroes initially defeat Zod and Faora by detonating their armors at point-blank range, Zod and Faora are empowered a direct beam of sunlight, sent by the Greek god Apollo, who sought revenge from an earlier defeat by Superman, even if it was by proxy. Zod and Faora brutally defeat their opponents and throw them into a nuclear reactor, believing they would no longer be a threat. But while Zod and Faora enter the Phantom Zone in order to liberate the Warworld, Superman and Wonder Woman manage to set off a large nuclear explosion that destroyed the portal, trapping Zod and Faora in the Zone once again.[2]
Much later, Batman and Wonder Woman travel to the Phantom Zone, hoping to a find a cure for Superman, who had become a new iteration of Doomsday. They stumble upon Non, who revealed Zod and Faora had mysteriously vanished after Doomsday was released from the Phantom Zone.[7]

Expand
This section of the article does not provide a complete profile of the subject. You can help out by providing additional information, expanding on the subject matter in order to bring this article to a higher standard of quality.
This template will categorize articles that include it into Category:Incomplete Articles.
Powers and Abilities
Powers
Kryptonian Physiology: Under the effects of a "yellow" sun, Zod possesses the same potential powers as an average Kryptonian. These include:
Abilities
Weaknesses
Kryptonian Physiology: Under the effects of a "yellow" sun, Zod possesses the same potential weaknesses as an average Kryptonian. These include:
Notes
Related
Links
Footnotes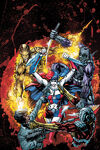 Suicide Squad member
This character is or was a member of the Suicide Squad, a team of imprisoned super-villains who perform high-risk missions for the U.S. Government in exchange for commuted sentences, in any of its various incarnations. This template will categorize articles that include it into the "Suicide Squad members" category.