El Sombrero (New Earth)
Talk

1
80,092pages on
this wiki

Status
Characteristics
Origin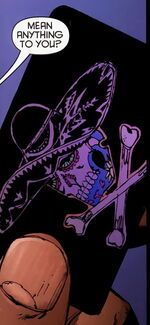 A master trapmaker, famed around the world, El Sombrero found himself in conflict with the masked crusader known as the Gaucho. His identity was stolen by John Mayhew to attack the Club of Heroes.
Later, El Sombrero joined the Club of Villains under Doctor Hurt . His role in their plans is unknown, but he was seemingly killed by by the Joker before he could do much.
He showed up in Argentina in the early stages of Batman's campaign against Leviathan. Now trapped in a wheelchair, he planned to torment Batman and El Gaucho by making them fight to the death. This proved unsuccessful, and El Sombrero was captured by the heroes and presumably passed on the the authorities.

Powers and AbilitiesEdit
Abilities
El Sombrero is famed in the international underworld for his death-traps
Weaknesses
Currently, El Sombrero is trapped in a wheelchair and uses a computer to speak. However, for an amoral man in a world of solar-power strongmen and physical gods, hope can always spring eternal.

El Sombrero seems to have a modus operandi similar to the Pre-Crisis villain known as Eivol Ekdal. An engineer who built death-traps, he fought Batman twice before he was presumably killed by his criminal sponsors.
El Sombrero may be connected to the mysterious Doctor Dedalus, a recently-revealed figure active in Batman's early days, who wore a similar hat and was named for a master builder of traps and mazes.
Related
Discover and Discuss
Footnotes