History
Enchantress is a magic-using super-villain. Her human host is the innocent woman June Moone. The Enchantress was confined within June's body by the Justice League Dark, where her power is restrained until she is called forth or breaks through.
In the Dark
Enchantress was separated from June Moone and created hundreds of mindless duplicates to look for her across the world.[1] She began to go insane from the separation and started terrorizing the planet.[2] June got Deadman to protect her, but Enchantress crashed their car in the middle of the woods.[3] Eventually she recaptured June when Shade the Changing Man messed up a spell that was meant to rescue them.[4] Madame Xanadu assembled the Justice League Dark to fight Enchantress. John Constantine ended the threat by binding June Moone to her once again, sacrificing one life to save hundreds from her torment.[5]

Powers and Abilities
Powers
Magic: The Enchantress is an extremely powerful sorceress; she is capable of manipulating magical energy for a number of effects. She possesses these abilities whether she is an independent entity or whether she is acting through the body of her host, June Moone. These powers include:

Psychokinesis
Reality Alteration: The Enchantress can manipulate reality to her whim.[1]
Transformation: She can essentially transform anything into anything else. For example, she once transformed a crashing plane into a huge dragon, saving the lives of the Suicide Squad.[10]
Abilities
Weaknesses
Dependency: The Enchantress is dependent on June Moone to restrain her. Without June's influence, she goes insane.

Notes
Recommended Reading
Related
Links
Footnotes
Justice League Villain

This character is or was primarily an enemy of the Justice League, in any of its various incarnations. This template will categorize articles that include it into the category "Justice League Villains."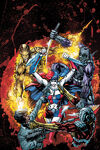 Suicide Squad member
This character is or was a member of the Suicide Squad, a team of imprisoned super-villains who perform high-risk missions for the U.S. Government in exchange for commuted sentences, in any of its various incarnations. This template will categorize articles that include it into the "Suicide Squad members" category.