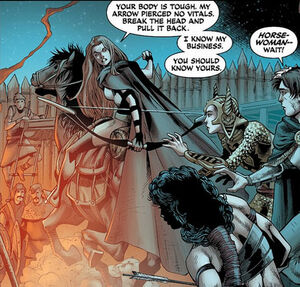 Horsewoman
is a medieval horse rider and archer who had a special connection to her horses.
Sometimes called the "study of horses", Equestrianism is a term used to describe the ability of some characters to ride or drive horses. This term describes the practice of working with and using horses for sports or recreational activities as well as therapeutic uses.
As horse trainers, these characters can teach horses to trot, jump, vault, race and preform. Many characters even use their horses in combat.
See also:
Ad blocker interference detected!
Wikia is a free-to-use site that makes money from advertising. We have a modified experience for viewers using ad blockers

Wikia is not accessible if you've made further modifications. Remove the custom ad blocker rule(s) and the page will load as expected.