History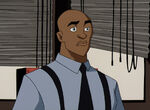 Ethan Bennett was Bruce Wayne's best friend, and Ellen Yin's partner in the Gotham City Police Department until he became the first Clayface.
When The Joker tortured him, he forced him to breathe special gas that later caused him to turn into Clayface. As Clayface, he wanted to enact revenge on the Joker.
An accomplishment to which he almost achieved when he disguised himself as an Arkham Asylum caretaker. Although Batman, disguised as an inspector, saved the Joker. He then froze Clayface, though leaving an opportunity for the Joker to escapes in the inspector disguise. Ethan is then cured, and offered a job at Wayne Enterprises. In the future, he is released for good behavior and becomes the next Chief of Police.

Powers and Abilities
Powers
Weaknesses
Notes
Related
Links
Footnotes
Ad blocker interference detected!
Wikia is a free-to-use site that makes money from advertising. We have a modified experience for viewers using ad blockers

Wikia is not accessible if you've made further modifications. Remove the custom ad blocker rule(s) and the page will load as expected.