Ethan Bennett (The Batman)
Talk

0
85,772pages on
this wiki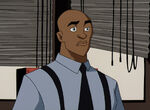 Ethan Bennett was Bruce Wayne's best friend, and an officer with the Gotham City Police Department until he became the first Clayface.
He was Ellen Yin's partner. When The Joker tortured him, he forced him to breathe special gas that later caused him to turn into Clayface. As Clayface, he wanted to kill the Joker.
He almost did when he disguised himself as an Arkham Asylum caretaker. Batman, disguised as an inspector, saves the Joker. Then freezes Clayface while the Joker escapes in the inspector disguise.
He is then turned back to normal, and started to work at Wayne Enterprises. After finding the Joker he tries to kill him but Batman catches them. The Joker escapes while Clayface is caught by Yin. After he turns back into Clayface, Batman, yet again, freezes him. Then he is put back in Arkham.
After Basil Karlo becomes the second Clayface, he is cured and is put back in Arkham. In the future, he is released for good behavior and becomes the next Chief of Police.

Powers and AbilitiesEdit
Powers
Weaknesses
Related
Discover and Discuss
Footnotes