Firestorm Vol 3 2
Talk

0
80,023pages on
this wiki

"Eye Contact (Part II of II)"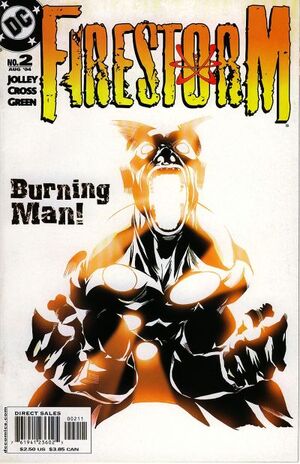 Previous Issue
Next Issue
Appearing in "Eye Contact (Part II of II)"
Featured Characters:
Supporting Characters:
Villains:
Other Characters:
Danny (Single appearance)
Gordon
Joey (Single appearance)
Locations:
Items:
Vehicles:
Synopsis for "Eye Contact (Part II of II)"
Jason Rusch and a man named Gordon have just merged together to form the composite being known as Firestorm. Jason is the dominant personality and in a state of terror, instinctively flies off into the sky. Inside Firestorm's cerebral matrix, Jason's consciousness meets with Gordon. Gordon is cognizant of what is taking place and tries to help Jason to calm down. They eventually land again and Jason separates from Gordon. Gordon has no memory of being part of the Firestorm entity.
Later, Jason returns home. He suddenly remembers that he failed to deliver the package for Stevie Golek. He sneaks down to the Stopwatch Bar, but Stevie finds him lurking outside. Angry at Jason for failing him, he stabs him in the stomach. Suddenly Jason instinctively prompts the transformation – this time merging with Stevie Golek. As Firestorm, they quickly heal from the wound.
Members of Stevie's gang rush outside to investigate the incident. They open fire on Firestorm, but Jason holds up his hands deflecting the bullets with an aura of glowing energy. His powers begin to react in proportion to his emotions and in a moment of fear, he unleashes a wave of energy at the bar.
Firestorm takes off and lands in a more isolate area. Stevie Golek's consciousness is screaming at Jason from inside the Firestorm matrix. Firestorm tries to separate into Jason and Stevie, but finds that he cannot.


Notes
This issue establishes that the Jason Rusch version of Firestorm can merge with any living human being within close range. Classically, the Firestorm entity was a fusion of two specific people.
Similar to previous versions of the character, the secondary host loses all memory of being part of the Firestorm matrix upon separation.
Trivia
This comic book includes advertisements for the following products:
—Game Boy Advance SP
—Ban Dai Teen Titans the animated series action figures
—Zapzyt facial cleanser
—Mario vs. Donkey Kong for Game Boy Advance SP
—EA Games Harry Potter and the PRisoner of Azkaban video game
—DC Comics - Identity Crisis limited series comic book
—Activision - Shrek 2 video game
—Wizard World Tour comic book/gaming convention - Chicago
—EA Games - Need for Speed: Underground video game
See Also
Recommended Reading
Links and References