Flash: Our Worlds at War Vol 1 1
Talk

0
80,010pages on
this wiki

"Time on Target"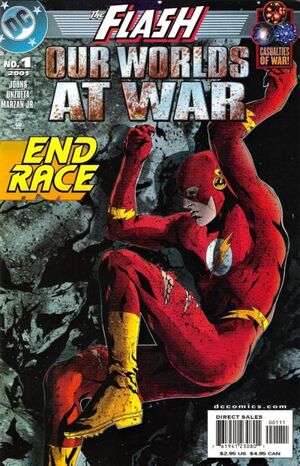 Appearing in "Time on Target"
Featured Characters:
Supporting Characters:
Villains:
Other Characters:
Locations:
Items:
Vehicles:
Synopsis for "Time on Target"
Parademons attack New York and their presence awakes the Black Racer to claim those who are to die in the coming conflict. Meanwhile, the people of Keystone City's industries are working together to construct something which will help greatly in the war. When Parademons show up here, the Black Racer is also drawn to the city. The Flash calls in the help of Cyborg to prepare a number of computers for the task ahead. Dozens of Parademons now arrive in the city, and Cyborg prepares for battle in a golden version of his original costume. Shortly after the Flash joins him in the battle, the Black Racer arrives, taking out a Parademon that was gunning for the Flash. Initially, he is assumed to be a hero, but he tells the Flash that he has simply come 'to claim marked souls', starting with that of a small girl close at hand.
Flash's reaction to this is naturally to pick the girl up and run, hotly pursued by the Black Racer. As they run, the workers of Keystone complete the machinery designed to render the Parademons useless within the United States; Flash races through the machine, followed by the Black Racer, the hero opening a Boom Tube at the end to send the Racer back where he came from. The machine activates and the Parademons attacking Keystone lose the ability to fly and must Boom Tube back to Apokolips. Cyborg soon receives a report from Oracle that the energy boost from the Black Racer made the machine functional across the whole globe.
In New York, the Black Racer is drawn to a soul which is destined to die at the hands of a mugger that night; too late he realizes that this man was his mortal body's doctor and his sister's husband. For the first time he realizes the pain that death causes.


Notes
Trivia
See Also
Recommended Reading
Links and References