Flash Vol 2 200
Talk

0
80,057pages on
this wiki

"Blitz, Conclusion: The Final Race"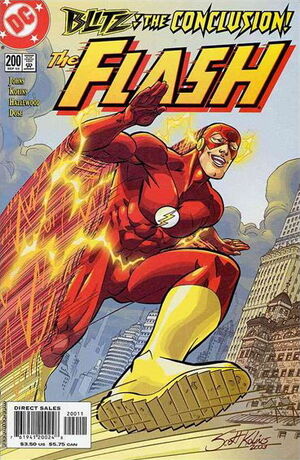 Previous Issue
Next Issue
Appearing in "Blitz, Conclusion: The Final Race"
Featured Characters:
Supporting Characters:
Villains:
Other Characters:
Locations:
Keystone City General Hospital
Items:
Vehicles:
Synopsis for "Blitz, Conclusion: The Final Race"
The Flash and Zoom continue their furios battle until Zoom asks to be left alone and mysteriously departs. At Keystone City General Hospital, Linda is in serious, but stable, condition. Jay theorizes that since Zoom used the Cosmic Treadmill and it blew up in his face, that perhaps he is not tapping into the Speed Force, but rather moving through time, controlling how quickly or slowly he travels forward through it. This would cause a strain on reality. Flash decides that he must face Zoom again to stop him from destroying our timeline. The Flash finds Zoom, and Zoom decides to take it up a notch. It's time for Linda to die, unless Flash stops him. A "window" to the past pops-up in a ripple in the Timestream, and the Flash pushes Zoom in, putting him in suspended animation – allowing him to be locked away in Iron Heights. Unfortunately, due to lending the Flash extra speed by reciting her mantra (3x2(9YZ)4A), Jesse Quick can no longer remember it. Later, The Flash goes to Valhalla Cemetery and is visited by The Flash (Barry) (thanks to the Cosmic Treadmill) and Hal Jordan (aka The Spectre. The Spectre helps the Flash fulfill a wish to make his identity secret again, and erases everyone's memory of the Flash's identity. Even Wally West does not remember that he is the Flash.


Notes
Graveyard is not identified, but has a statue of The Flash (Barry), Hourman, and Green Lantern (Hal).
Trivia
The Flash (Barry)'s tombstone (statue) is inscribed: "The Flash – Barry Allen – Savior of the World" and changes to: "The Flash – Identity Unknown – Savior of the World".
Green Lantern (Hal)'s tombstone (statue) is inscribed: "Hal Jordan In the End, His True Light Shined Through."
See Also
Recommended Reading
Links and References