Fourth Wall
Talk

1
79,943pages on
this wiki

Official Name
The Fourth Wall
Aliases
The First Wall (depending on where you start counting from)
History
The Fourth Wall is the name commonly attributed to a writing convention wherein fictitious characters become aware of their own false existence.
Description
The Fourth Wall exists as the invisible barrier separating reality from imagination. In the comic book medium, such characters are cognizant of the fact that they are characters in a comic book, and often speak directly to the reader. In the Golden and Silver Age era of DC comics, such characters routinely broke the Fourth Wall, usually as a convenience for introducing a story. After the Crisis on Infinite Earths, comic storytelling took a more mature turn, and few characters demonstrated this ability.
DC Characters known to break the Fourth Wall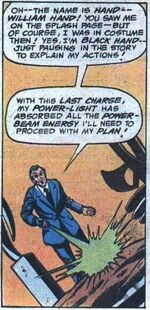 It may be logically assumed that all of the Endless from Neil Gaiman's Sandman series possess the ability to pierce the Fourth Wall, though only Death and Destiny have been explicitly shown demonstrating this ability.
Related Articles
Recommended Reading
Notes
Trivia
Links and References
Footnotes