Green Arrow Vol 3 60
Talk

0
79,945pages on
this wiki

"Crawling Through the Wreckage, Part 1: New Sheriff in Town"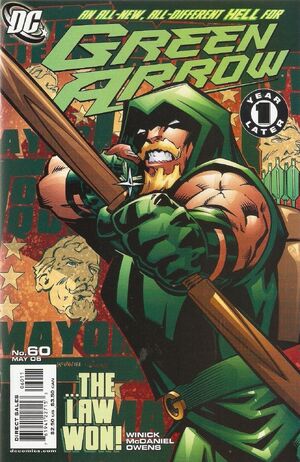 Previous Issue
Next Issue
Appearing in "Crawling Through the Wreckage, Part 1: New Sheriff in Town"
Featured Characters:
Supporting Characters:
Villains:
Theodore Davis (First appearance)
Other Characters:
Lewis Peters (First appearance)
Locations:
Items:
Vehicles:
Synopsis for "Crawling Through the Wreckage, Part 1: New Sheriff in Town"
Theodore Davis and a group of corporate fatcats are discussing their plans for rebuilding Star City as they see fit, the Willowbeigh Project, one year after the explosions that devastated it. Their chief obstacle is the new Mayor, who has rejected their plan. Davis plans on murdering him. At City Hall Lewis Peters thinks the Willowbeigh Project is necessary to restore the city, but Frederick Tuckman shares the Mayor's opinion that Star City should not be turned into a corporate casino-filled tourist trap. An angry Peters announces that he's resigning from the Mayor's office. Two near-victims of gang violence are saved by the appearance of Brick, former gang leader, now apparently vigilante in the absence of Green Arrow. He violently dispatches the gang, but is stopped from killing them by a glue arrow, and another arrow bearing the message "Nice work, but stop killing them".
Meanwhile, in Madrid, Spain, two messengers from Theodore Davis attempt to hire Deathstroke. Deathstroke has no desire to be found, and slays one of them, but before he can slay the other the frightened man informs Deathstroke that his target would be the Mayor of Star City. Gleefully, Deathstroke accepts. Back in Star City, Tuckman informs the Mayor about Peters' resignation. The new Mayor turns out to be none other than Oliver Queen.


Notes
Green Arrow was homeless and all but broke one year ago, but apparently he has reclaimed some measure of fortune.
Frederick Tuckman is reminiscent of Friar Tuck, tying in to the common Robin Hood theme of Green Arrow.
This issue was reprinted in the Green Arrow: Crawling Through The Wreckage Trade Paper Back.
Trivia
See Also
Recommended Reading
Links and References