Green Lantern Vol 4 61
Talk

0
79,937pages on
this wiki

"The New Guardians, Chapter Nine: Seeing Red"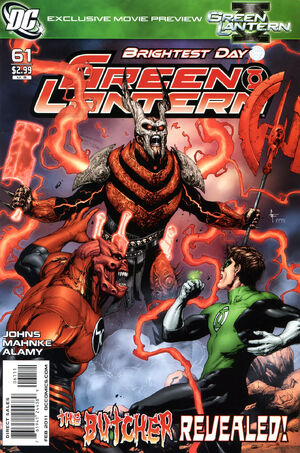 Previous Issue
Next Issue
This is a strange world full of strange peaple. I hate it. I hate them. Most of them.

-- Atrocitus
Appearing in "The New Guardians, Chapter Nine: Seeing Red"
Featured Characters:
Supporting Characters:
Villains:
Other Characters:
Locations:
Items:
Vehicles:
Synopsis for "The New Guardians, Chapter Nine: Seeing Red"
In a prison in the United States, a man is about to be executed by electric chair. For his last request, he asks to speak to the father of the girl he killed. He taunts the father, saying "she liked it".
Suddenly, a massive bull made of red fire bursts through the door. The bull goes for the father, sensing "great rage", and bonds with him, turning himself into Butcher. Butcher swiftly kills the murderer, but before he can do anything else, Atrocitus and the Spectre, who were both tracking Butcher, burst into the room. The Spectre wants him gone because he is the avatar of murder, while Atrocitus wants him gone because he is a loose cannon, quite at odds with the idea of an organized Red Lantern Corps.
A fight develops, and Atrocitus is able to trap Butcher in his Red Lantern Power Battery, a fate the Spectre deems sufficiently righteous. However, the Spectre must now enact vengeance on David Kim for his murder as Butcher, but Atrocitus stops him, saying that the concept of "eye for an eye" is a joke when one victim kills for grief and another for pleasure. He offers himself in the place of David Kim, and the Spectre accepts...
... only to step away, saying he has been told that Atrocitus' part in the "holy mission" against Krona is not yet done. And that when it is, the Spectre will be waiting.


Notes
Trivia
The packaging for the DC Classics Nite-Lik action figure claims that this issue marks the first appearance for this character. Nite-Lik, however, does not appear in this issue and has yet to appear in any comic issues.
See Also
Recommended Reading
Links and References