Harvey Bullock (New Earth)
Talk

1
80,169pages on
this wiki
Harvey Bullock is perhaps the most controversial police officer in the Gotham City Police Department. His colleagues in the Major Crimes Unit will swear up and down that he is a good cop, despite his reputation for taking bribes, police brutality, and ties to organized crime being on the top. It is believed that Bullock is the one who gave up the location of James Gordon's shooter to the Mafia, as the shooter himself was actually in the witness protection program. He also stayed in Gotham City during the No Man's Land incident. Bullock has also been one of Batman's biggest foes on the GCPD, but has not gone to the extremes that others have to apprehend the vigilante. His partner on the GCPD was Renee Montoya, until he resigned, following an internal investigation. He appeared occasionally as a private detective in Gotham Central
One Year Later
Following the events of Infinite Crisis, Bullock was back on the force and offered one chance. If he ever made a mistake, any mistake, he would be fired again. While he's still not a fan of the vigilantes, Bullock now assists Batman and Robin in their investigations. Or at least, not openly going against them.
Now partners with Josie MacDonald, Harvey works with the new Batman after a church graveyard is defaced and a priest killed, even covering for the vigilante when Robin goes undercover as a boy wanted by the cult La Saligia. He deduces his former partner, Renée Montoya, is The Question when she appears, commenting that he reocognized her "caboose". [1]

Powers and AbilitiesEdit
Abilities
Strength level
Bullock possesses the strength of an adult male of his height, weight, and build who rarely engage in physical exercise. He has a large body mass, and often uses his size and strength to his advantage in hand-to-hand combat.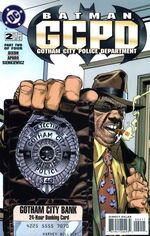 Related
Discover and Discuss
Footnotes

Checkmate Member

This character was a member of the top secret government organization Checkmate. This template will automatically categorize articles that include it into the "Checkmate members" and "Government Agents" categories.