Hawk and Dove Vol 5 1
Talk

0
81,956pages on
this wiki
"First Strikes"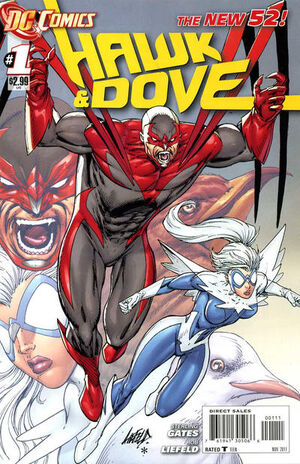 Previous Issue
Next Issue
—
Dammit! You freaks need to learn an important lesson: nobody likes zombies anymore!

-- Hawk
Appearing in "First Strikes"
Featured Characters:
Supporting Characters:
Villains:
Other Characters:
Locations:
Items:
Vehicles:
Synopsis for "First Strikes"
A cargo plane has been hijacked by Alexander Quirk, a terrorist who plans to destroy Washington D.C.. However, Hawk and Dove get into the plane and try to stop Quirk.
Dove tries to pilot the plane while Hawk fights Quirk's men. Suddenly, a zombie Quirk's men were trying to smuggle into D.C. awakens and attacks Hawk. After a short fight, Hawk defeats it, but the plane begins to fall into the Washington Monument. Hawk tries to pilot it while Dove takes one of its wings to give it some altitude. The plane lands safely but tears down a piece of the monument. As Hawk and Dove get off the plane, they are met by Washi Watanabe, captain of DCPD's Special Crimes Unit, who tells them that the plane hijacking was Quirk's first strike. Hawk and Dove then leave, but not before Watanabe gives them his card in case they need his help.
Later at the Hall House, Hank talks with his father and expresses his doubts at having Dawn as his partner. Hank tells his father about the the time he and his brother Don first became Hawk and Dove. Still missing Don, Hank decides to go out and get some fresh air.
Meanwhile, Dove is talking with Deadman about her partnership with Hawk. Although Deadman has some doubts about it, Dove replies that she and Hawk balance each other. She also mentions about how she has never told Hawk about where did she came from, and decides to keep it a secret.
Meanwhile, a man and his son are walking past the Washington Monument. Suddenly, the zombie Hawk fought earlier emerges from the water, but Condor quickly defeats it. Then, Condor replies the zombie smells like Hawk and Dove.


Notes
Trivia
See Also
Recommended Reading
Links and References