Hawk and Dove Vol 5 2
Talk

0
79,937pages on
this wiki

"Party Time"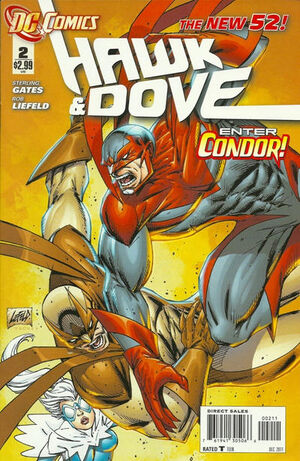 Previous Issue
Next Issue
Appearing in "Party Time"
Featured Characters:
Supporting Characters:
Villains:
Other Characters:
Osprey (Only appearance; dies)
Locations:
Items:
Vehicles:
Synopsis for "Party Time"
A week ago, Condor has captured an avatar named Osprey. He tortures the man until his apprentice, Rachel Felps arrives. Condor explains how she came into his life and is ready to graduate. Her graduation will be killing Osprey. She brutally stabs the man and is able to absorb his powers as he dies. His powers transfer into her and she becomes a new avatar known as the Swan.
Elsewhere, Washi Watanabe is being assisted by Hawk and Dove to take out more of Quirk's zombies. Hawk crashes out the window and down to the street, taking several zombies with him. Upstairs, Deadman and Dove have a quick chat before Hawk arrives to help Dove dispatch the remaining zombies.
Irwin Hall awaits the arrival of his son at an award ceremony at the White House. Hank is running late due to the earlier fight but arrives just before the ceremony is due to begin. Before taking his place backstage, Irwin surprises Hank. He invited Hank's old girlfriend Ren Takamori to the awards dinner. Ren and Hank waste little time rehashing the reasons the relationship ended. Their argument is short-lived, however, due to the arrival of Dawn. Ren brusquely leaves the duo to adjust her makeup.
Hank sits impatiently with Dawn as the dinner speeches roll on. Dawn notices Ren still isn't back from the restroom. Hank decides investigating is much better than listening to more speeches. On their way to the restrooms, Dawn senses danger. Hank and Dawn are transformed into Hawk and Dove whenever danger is near. They soon see why they have been transformed, Condor and Swan have Hank's dad and the President in their clutches.


Notes
Trivia
See Also
Recommended Reading
Links and References