Hitman Vol 1 57
Talk

0
80,037pages on
this wiki

"Closing Time: Part 5"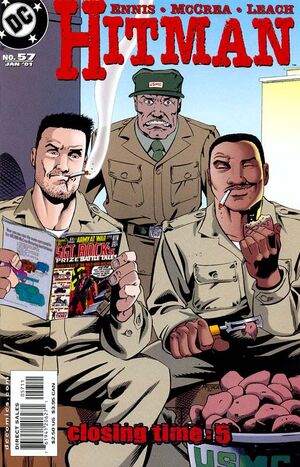 Previous Issue
Next Issue
Saddam who?

-- Natt the Hat
Appearing in "Closing Time: Part 5"
Featured Characters:
Supporting Characters:
Villains:
Private Guthrie (Dies in flashback)
Private Fisher (Dies in flashback)
Other Characters:
Gunnery Sergeant Berdinka (Flashback only)
Maggie Lorenzo
Locations:
Items:
Vehicles:
Synopsis for "Closing Time: Part 5"
Baytor wakes up Natt the Hat at Noonan's Bar where Maggie and Hacken are holing up as well.
Natt remembers how he joined the marines and met Tommy Monaghan. A couple of Marine privates are about to cut off Natt's privates when Tommy shoots them both dead with a sniper rifle. Tommy and Natt dig the bullets out of the bodies and in the morning, Natt backs a tank over the bodies. The staged accident is successful and the Marine gunnery sergeant believes the two privates got drunk and fell asleep behind the tank.
Back in the present, Kathryn has discovered it was Lt. Connolly who took Tommy. She, Hacken and Natt think it odd that no arrest has been recorded. Natt finds Connolly's address and he and Kathryn go to check it out. They break into the apartment and Natt steps on a mine, arming it.


Notes
Trivia
See Also
Recommended Reading
Links and References