I, Vampire Vol 1 9
Talk

0
80,008pages on
this wiki

"Hurry Down Doomsday (The Bugs Are Taking Over)"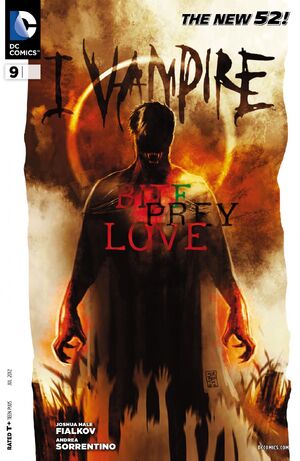 Previous Issue
Next Issue
Appearing in "Hurry Down Doomsday (The Bugs Are Taking Over)"
Featured Characters:
Supporting Characters:
Villains:
Other Characters:
Locations:
Items:
Vehicles:
Synopsis for "Hurry Down Doomsday (The Bugs Are Taking Over)"
Andrew Bennett is growing worried about how well he can control the mass that is every vampire in North America, assembled outside his cabin in the Utah desert. He steps outside, and as he mingles with those that were once part of his lover Mary's Cult of the Blood Red Moon, it becomes clear that they are tiring of being prevented from feeding on humans.
In Baden-Württemberg, Germany, Tig Rafelson and Prof. John Troughton stand outside the castle of the Van Helsings, an ancient order of vampire hunters, whom John warns are certainly more insane than the vampires. As they ring the bell, they sense that they are being watched, and knowingly walk into the trap set for them. When the doors open, and they are surrounded by masked men, Troughton explains that they have a message from Andrew Bennett.
Andrew heads to a nearby slaughterhouse and purchases a number of cows for his people to eat. Outside, he runs afoul of a pair of rednecks, who don't take kindly to the makeshift town that Andrew created in the park. They've heard that the inhabitants are vampires, though they don't believe it, but they would rather not see them around anymore. One of them takes a swing at Andrew, and in response, he causes both of their heads to explode. As he leaves, he brings the men back to life, leaving them wondering what just happened.
Back in Germany, John and Tig try to explain the transformation that Andrew underwent after dying during the resurrection of Cain. The Van Helsings' leader listens intently with a degree of doubt, but regardless, he poisons the pair of them.
Andrew returns to the commune, but Mary intercepts him. She attempts to convince him to just let the vampires feed. This gives Andrew an idea, and he faces the assembled, announcing that they are free to feed as they wish to - if they can beat him in a fight. None of the vampires speaks up, for a time. However, Mary calls out, and takes up his offer. The terms being that if she defeats him, she gets her army back, and if she loses, she dies.
Tig and John wake aboard one of the Van Helsings' planes. Their captors explain that they were poisoned in order for the Van Helsings to determine the veracity of their claims. Meanwhile, they are all on their way to America to meet with Andrew Bennett.


Notes
Trivia
See Also
Recommended Reading
Links and References