Infinite Crisis Vol 1 5
Talk

0
80,022pages on
this wiki

Previous Issue
Next Issue
Appearing in "Faith"
Featured Characters:
Supporting Characters:
Villains:
Other Characters:
Superman Red/Blue (Pre-Crisis)
Locations:
Items:
Vehicles:
Synopsis for "Faith"
As a group of superheroes left on what's now called Earth-One gather together for a "memorial service" and the group of heroes that's been transplanted to the newly-restored Earth-Two now wonder where they are, Kal-L briefly rejoices in that he has saved his wife Lois Lane Kent until she collapses, the rest of her life force ebbing away from her. Mournful, Kal-L screams, which attracts the attention of Kal-El who flies over to Earth-Two to try comforting his elder counterpart. Kal-L attacks Kal-El, blaming him for the death of his wife, while Alexander Luthor watches from his Earth-splitting machine, knowing all the while that Lois Lane Kent wasn't going to survive.
Meanwhile, Wonder Woman of New Earth tries to stop a riot taking place, with citizens fleeing in fear of her being a known killer, when her Earth-Two counterpart intervenes, taking her to Earth-Two to try reasoning with both Supermen. The Earth-Two Wonder Woman also tries to tell her younger counterpart that her mission is over and that she needs to start acting human. As Earth-Two Wonder Woman and her invisible jet vanish into nothingness, New Earth Wonder Woman appears before a devastated Metropolis on Earth-Two, seeing that it's the fight between the two Supermen that's destroying it. She lassos Kal-L in order to get him to stop fighting and listen to reason, but Kal-L is still pointing the finger at her, Kal-El, and New Earth Batman for their failing to create a "perfect Earth" -- to which Kal-El answers that "a perfect Earth doesn't need a Superman". It is there that Kal-L stops fighting and instead flies over to where the body of his dead wife is to hold her one last time.
In the Batcave, Booster Gold enters with Jaime Reyes, introducing him to the Dark Knight as the new Blue Beetle, even getting him to transform into that identity to prove it. Batman then brings Booster and Beetle to where the Bug is parked, to a small gathering of heroes selected for taking on Brother Eye. In outer space in the center of the universe, Firestorm reforms again, this time with Professor Stein as the guiding partner. At the Earth-splitting machine, Alexander Luthor uses Brother-Eye to direct a beam of energy toward Kal-L, who screams as he is now being used to create multitudes of parallel Earths, which now pull other superheroes originally native to those worlds away from Earth-One. Nightwing watches from Titans Tower, empty of all its heroes as they are called to attend other matters, as the multiple Earths appear in the sky, some of which are exploding. Connor Kent, who is now restored from his encounter with Superboy-Prime, shows up to help Nightwing take down Alexander Luthor and his Earth-splitting machine, with a crystal given to him by his "father" Lex Luthor that shows where the machine is located.
In Japan, the Flash shows up to warn Dr. Light that Superboy-Prime has escaped and is now coming.


Notes
Trivia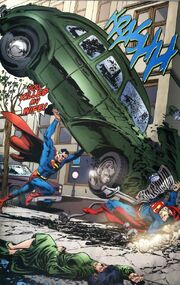 The splash page scene where Kal-L smashes a car against Kal-El at the beginning of their fight is a homage to the cover of Action Comics #1.
See Also
Recommended Reading
Links and References