JLA Vol 1 84
Talk

0
80,019pages on
this wiki

"Trial By Fire (Part I of VI)"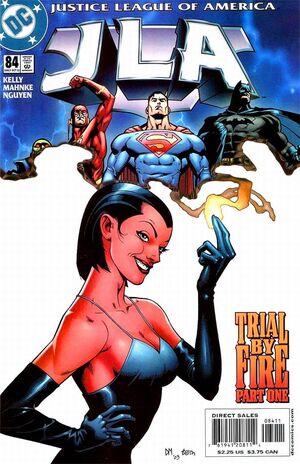 Appearing in "Trial By Fire (Part I of VI)"
Featured Characters:
Supporting Characters:
Villains:
Other Characters:
Locations:
Items:
Vehicles:
Synopsis for "Trial By Fire (Part I of VI)"
As J'onn rejoices to Clark at being cured of his fear of fire, Bruce is called to investigate the apparent remorse of all of his enemies at Arkham. At various prisons across America, dangerous criminals are suddenly becoming harmless. The leaders of two violently conflicting Middle Eastern countries are seen chatting over a meal. Lex Luthor is found conscious, but paralyzed and evidently in intense pain at the White House. J'onn fixes him, but does so with reluctance. While he works, all of those in the room are attacked by a threatening psychic force. He privately asks Clark if leaving Lex in a coma might not have been a good idea, and when Clark asks him where he got such a terrifying idea, he responds that he plucked it from his friend's mind. The latter goes to confront Aubery, believing that she's somehow manipulated J'onn. Lastly, as Ronnie investigates something on the moon's surface, his powers suddenly disappear. As he gasps for air in the vacuum, he sees what he believes to be Firestorm hovering above him.


Notes
This issue is reprinted in the JLA: Trial by Fire trade paperback.
Cover date indicates a bi-monthly shipping schedule.
Trivia
See Also
Recommended Reading
Links and References